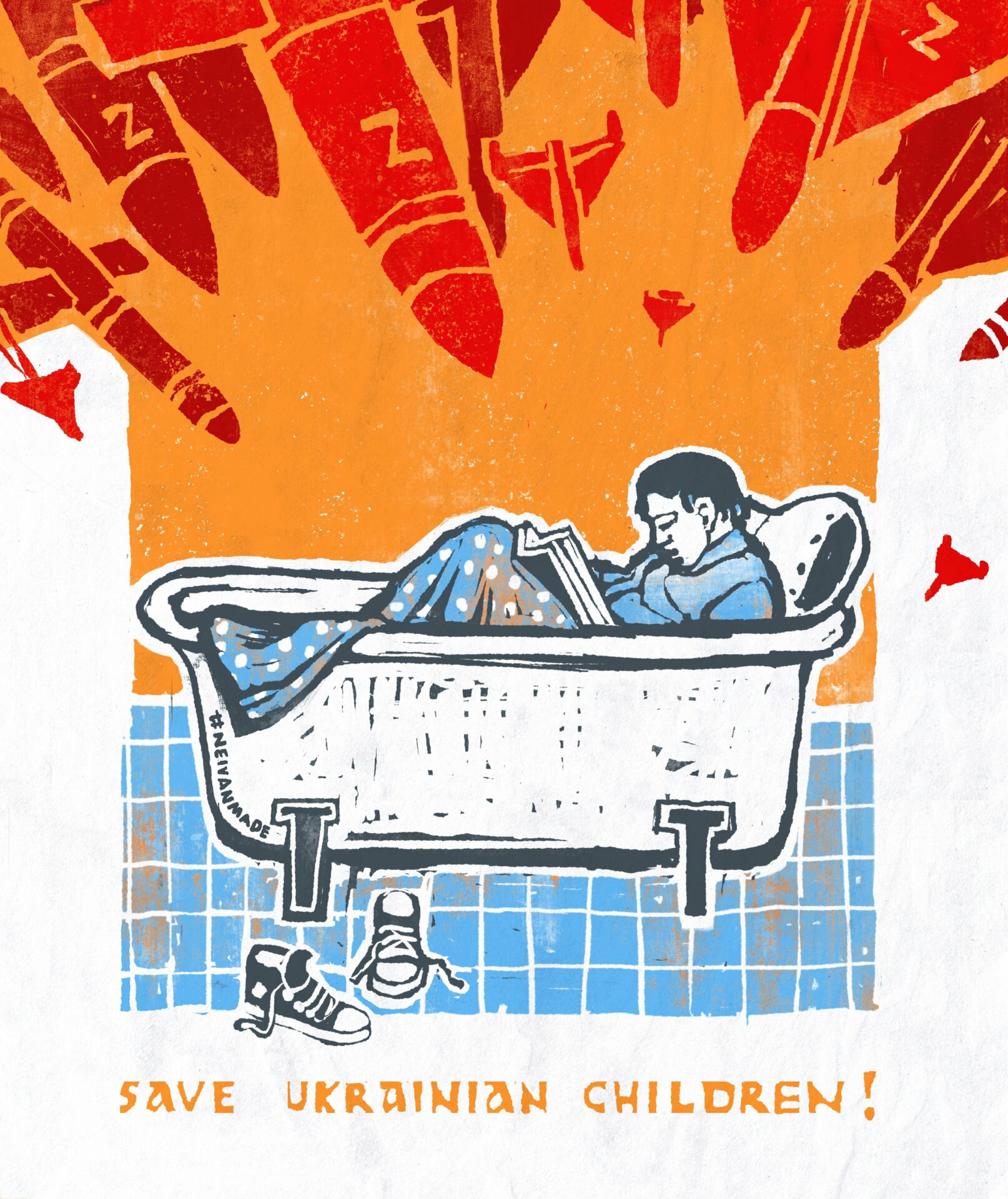 (Image by NEIVANMADE)
The Russians opened up on Ukrainian civilian targets again overnight:
Another massive missile attack by russian terrorists was repelled.
Air defense of Ukraine destroyed 36 air targets:
3 Kalibr cruise missiles;
33 Kh-101/Kh-555 cruise missiles.
The sky will be peaceful! @KpsZSU

— Defense of Ukraine (@DefenceU) July 26, 2023
Last night in comments, Urza asked:
I may have missed it already, whats your thoughts on the talk of the Wagner group making a strike through Poland to unite the outlying Russian territory to Belarus?  That seems like a terrible idea as it would guarantee NATO involvement.  On the other hand it could be a feint to get troops ready to reinvade northern Ukraine.
You hadn't missed it as I hadn't written anything about it. Every single story on this – including from the legit outfits like Radio Free Europe/Radio Liberty – all lead back to something Lukashenko allegedly said. Given Prigozhin's statements about refocusing on Africa and other places he's been operation, I would treat this as agitprop and misinformation until we have something more than Lukashenko's utterances.
Here is President Zelenskyy's address from earlier today. Video below, English transcript after the jump.
It is very important that the audacity of this attack by Russian terrorists was destroyed – address by the President of Ukraine

26 July 2023 – 22:09

Good health to you, fellow Ukrainians!

Today is a day that should end with a special gratitude to all our air defense warriors for every Russian missile shot down.

The data is still being clarified, but according to preliminary reports, more than 30 missiles were shot down during today's missile attack alone – the vast majority of those used against us.

There were a few hits, and some missile fragments fell. But it is very important that the audacity of this attack was destroyed. The air defense units did a great job!

I am grateful to everyone who protects the Ukrainian sky. And we work every day to ensure that our warriors have more and more opportunities to defend Ukraine, our cities and people. Today is no exception.

Today, the first emergency meeting of the NATO-Ukraine Council took place. We agreed on this meeting with NATO Secretary General Jens Stoltenberg, and we convened the Council in just a few days. Both Jens and all Allies responded promptly and in solidarity.

At the level of the Alliance, the Russian attacks against our country and our ports have been clearly condemned. We discussed what specific actions can bring calm and predictability to the Black Sea region. Thank you all for the substantive work of today's NATO-Ukraine Council!

Today, the Italian Senate adopted a decision to recognize the Holodomor as genocide of the Ukrainian people. And this is very important. It is important that the world's recognition of the historical truth about the Holodomor is becoming more and more confident – step by step, we will ensure full recognition of this truth.

I held several important meetings on preparing international events in August, including the Crimea Platform.

We are also preparing a list of de-occupation steps for Crimea. Comprehensive steps: security, economic, and social. We can quickly reintegrate Crimea into the state fabric of Ukraine. In fact, the occupiers should already consider that while the Crimean bridge is still somewhat operational, they should return home to Russia.

Crimea, like the rest of Ukraine, will be free – free from all Russian evil, starting with Russian missiles and ending with every Russian occupier. Russia will lose this war, and no missile will save it.

Glory to all those who defend Ukraine! By the way, today our guys at the front had very good results. Well done. More details later.

Glory to Ukraine!
The #UAarmy's summer campaign is in full swing, and we are doing all we can to achieve success. Our partners stand with us and believe in Ukraine's victory and just peace.
Thank you to @SecDef Lloyd J. Austin III and all Americans for another package of security assistance! pic.twitter.com/qFbQM6xP7u

— Oleksii Reznikov (@oleksiireznikov) July 25, 2023
15 days since the last exploding general pic.twitter.com/2a3are9yMO

— Defense of Ukraine (@DefenceU) July 26, 2023
Talk about adding insult to injury!
Avidiivka:
WARNING!! GRAPHIC & DISTURBING CONTENT IN THE VIDEO!! WARNING!!
I'm posting this not so you'll watch the video – I've watched it, but because I want to call attention to the reality that is shown here by providing the machine translation for the two tweets in the thread (even though only the second one is showing).
The first tweet machine translates as:
And help did not arrive in time for this Ukrainian hero. The horrific footage was captured on the GoPro camera of an Armed Forces soldier. Near Avdiivka, the Russians captured our stronghold and fatally wounded him.
And the second as:
No one came to help him and he died 30 seconds later. A video for those who have forgotten that every day now our boys are holding the front at the cost of their own lives.
The awful truth of war https://t.co/tGcaIeLVnh

— Illia Ponomarenko 🇺🇦 (@IAPonomarenko) July 26, 2023
На допомогу йому ніхто не встиг прийти і через 30 секунд він помер. Відео для тих, хто забув, що кожного дня зараз наші хлопці тримають фронт ціною власних життів.

Джерело:https://t.co/tF0wdDTdgx

— Мисливець за зорями (@small10space) July 26, 2023
ALL CLEAR!!!
I want to clarify that it is not that no one came to his aid, rather no one who could render aid was able to get to him in time given he and his fellow Soldiers were in contact with the enemy and taking fire. For all the fun videos that the Ukrainian MOD or NAFO put out or the daily Patron material, the Ukrainians are not just in a war, they are literally in the fight of their lives. And not every Ukrainian is, at the personal level, going to win that fight even though their personal sacrifice is contributing to Ukraine eventually winning it overall.
Klishiivka:
Ukrainian troops are pretty close to taking over the whole of Klischiivka (south of Bakhmut).
The southern flank has considerable progress.

— Illia Ponomarenko 🇺🇦 (@IAPonomarenko) July 25, 2023
There's another interesting account from a Russian officer, sorry long post again, but he tells what led to Ukrainian success in Klischiivka, including Russia bringing up unprepared troops from various units into an area, describing them as disorganised. He also mentions… pic.twitter.com/tg6W68ZvPw

— Dmitri (@wartranslated) July 26, 2023
Here's the three screen grabs of the translation: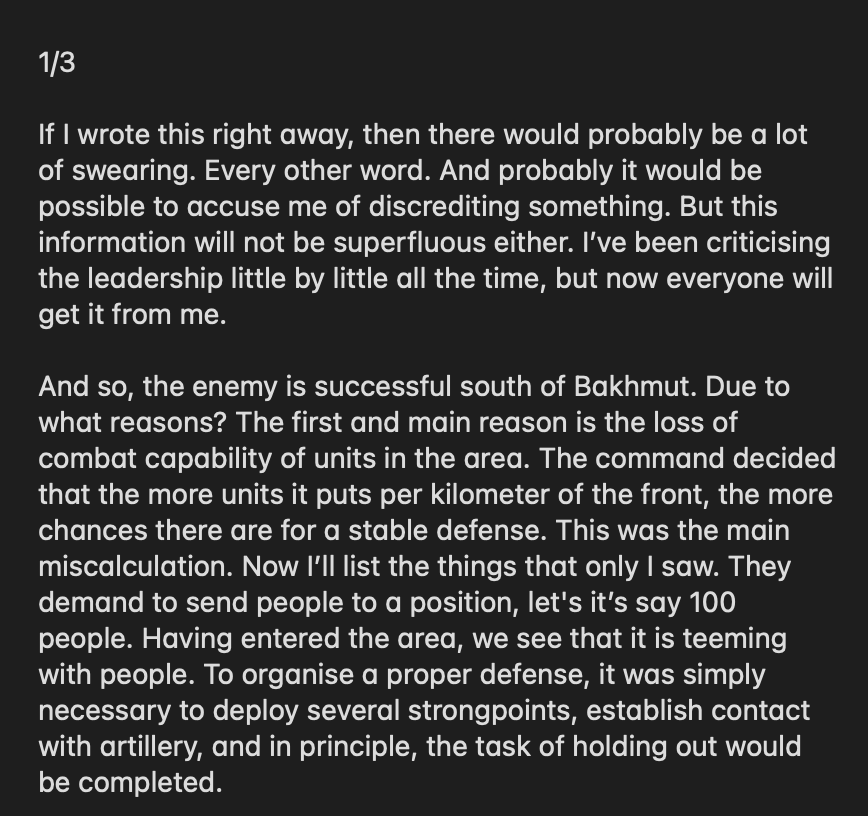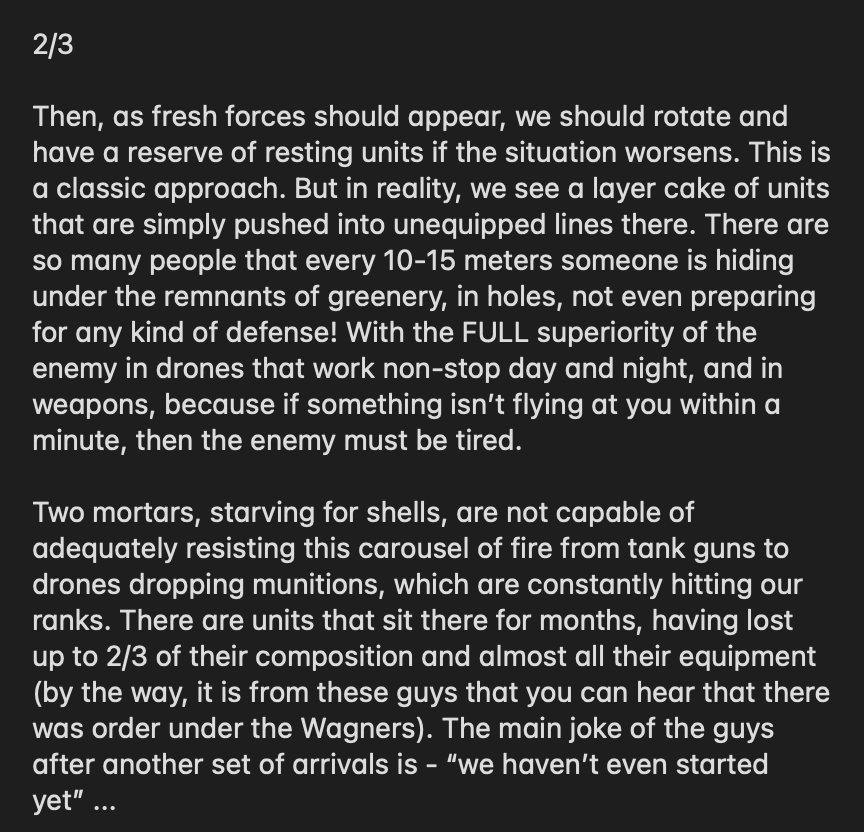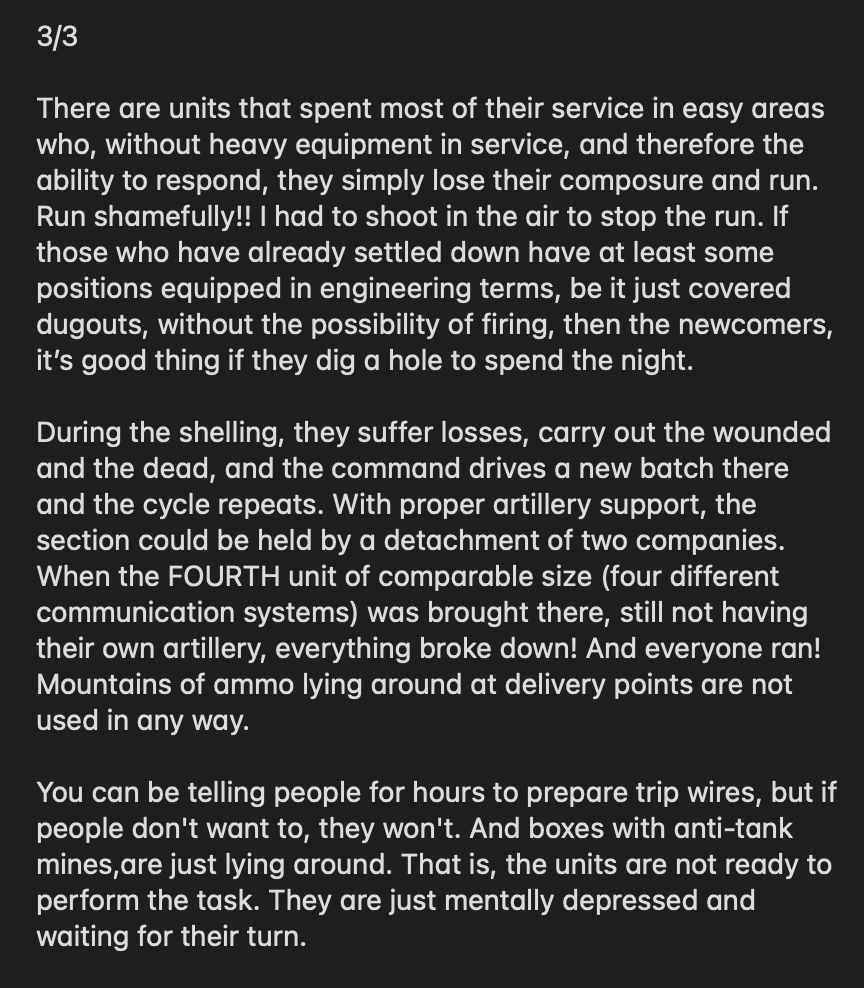 Karkiv:
Kharkiv athlete @sadurskaterina set new women's world record in Constant Weight No Fins with dive of 76 meters today! Kateryna just told me how important it was for her to see 🇺🇦 flag rise after everything she witnessed in Kharkiv. Go, girl! We are proud of you@KharkivMediaHub pic.twitter.com/oIyvnguiL3

— Maria Avdeeva (@maria_avdv) July 26, 2023
The Orkhiv Axis:
Confirmation that the main thrust is the Orikhiv axis, which was clear from the 47th Mechanized Brigade's presence.https://t.co/HXqvxZrVgT pic.twitter.com/xYThdpECUM

— Rob Lee (@RALee85) July 26, 2023
"Ukrainian officials have told U.S. officials that the enlarged Ukrainian force would try to advance south through Russia's minefields and other fortifications toward the city of Tokmak, and, if successful, on to Melitopol, near the coast." https://t.co/EYWxgkg0W5

— Shashank Joshi (@shashj) July 26, 2023
When we saw the location of the Bradleys, Leopard 2R, and other key equipment from the 47th Mechanized Brigade last month, it was clear that was the main effort. If Ukraine continues to commit its forces in this direction, it indicates they have not changed the priority axis. https://t.co/au4XOUpeRM

— Rob Lee (@RALee85) July 26, 2023
From The New York Times:
The main thrust of Ukraine's nearly two-month-old counteroffensive is now underway in the country's southeast, two Pentagon officials said on Wednesday, with thousands of reinforcements pouring into the grinding battle, many of them trained and equipped by the West and, until now, held in reserve.

The officials spoke on condition of anonymity to discuss details of the campaign. Their comments dovetailed with reports from the battlefield on Wednesday, where artillery battles flared along the southern front line in the Zaporizhzhia region.

And Igor Konashenkov, the Russian Defense Ministry's chief spokesman, reported a "massive" assault and fierce battles south of Orikhiv, a town that Ukraine holds about 60 miles north of the Sea of Azov. Vladimir Rogov, an official appointed by Moscow in southern Ukraine, said the assault involved Ukrainian troops who had been trained abroad and were equipped with about 100 armored vehicles, including German-made Leopards and American-made Bradley Fighting Vehicles.

Another Russian occupation official in Zaporizhzhia, Yevgeny Balitsky, said that Ukraine had made 36 attempts to shell settlements in the region since Tuesday. Russian assertions that the Ukrainian attacks had been repelled could not be immediately verified.

Ukrainian troops along the southern front said in interviews on Wednesday that they were steadily pushing Russian troops back, but their progress had been incremental with no major breakthroughs. They have been slowed by minefields, and some said the biggest obstacles were Russia's withering artillery fire and airstrikes.

Ukrainian officials have told U.S. officials that the enlarged Ukrainian force would try to advance south through Russia's minefields and other fortifications toward the city of Tokmak, and, if successful, on to Melitopol, near the coast.

Their goal is to sever the so-called land bridge between Russian-occupied Ukraine and the Crimean peninsula, or at least advance far enough to put the strategically important peninsula within range of Ukrainian artillery. Russia seized Crimea from Ukraine in 2014, and uses it as the base for its Black Sea fleet as well as to supply its forces in the south.

The new operation, if successful, could take one to three weeks, Ukrainian officials have told officials in Washington.

However, little has gone according to plan since the counteroffensive started early in June, and officials at the White House and Pentagon said on Wednesday they were watching the increased activity with keen interest.

"This is the big test," said one senior official, who spoke on condition of anonymity to discuss internal deliberations.
Fog and friction, fog and friction. While the character and characteristics of war changes over time, its nature doesn't.
The Kerch Bridge in Russian Occupied Crimea:
"The destruction of the Crimean bridge is one of our achievements," Vasyl Malyuk, chief of the Security Service of Ukraine, admitted during a ceremony marking the release of a new stamp that honors the work of the domestic intelligence agency. https://t.co/BGuEDxBQ0M

— Christopher Miller (@ChristopherJM) July 26, 2023
Here's a machine translation of the Security Service of Ukraine's tweet:
The SBU and Ukrposhta put into circulation a stamp dedicated to the work of the special service The Security Service of Ukraine and Ukrposhta presented a stamp dedicated to the activities of the special service and its contribution to the defense of the country.
Vesele, Russian Occupied Crimea:
/2. Satellite imagery of the consequences of the strike near the settlement of Vesele in Crimea. (45.5749013, 34.2582042)https://t.co/TeWy2EaicH pic.twitter.com/f2AN5UfSFV

— Special Kherson Cat 🐈🇺🇦 (@bayraktar_1love) July 26, 2023
For you logistics, acquisitions, and drone fans. You know who you are and, thanks to your comments, so do the rest of us!
From the production of cheap battlefield drones to AI-powered missile detection, Ukrainian tech start-ups, IT workers and volunteers have been developing military tech and putting themselves on the front line of the war effort. Watch the full film here: https://t.co/CUTETUgT4l pic.twitter.com/N66EtWZjWu

— Financial Times (@FinancialTimes) July 26, 2023
Here's the full 26 minute video:
Not going to be a negotiated settlement any time soon:
3 things Ukrainians are not ready to compromise for ending the war – territories, membership in #NATO and membership in the #EU. 71,7% are against "trading" 🇺🇦 NATO membership. No chance to sell the issue at potential talks. New @dem_initiatives @ICUVua poll @NEC_Ukraine pic.twitter.com/aQb5PFQCYf

— Alyona Getmanchuk (@getmalyona) July 26, 2023
That's enough for tonight.
Your daily Patron!
A new video from Patron's official TikTok!
Here's the machine translation of the caption:
Do you agree or disagree? :))
Open thread!