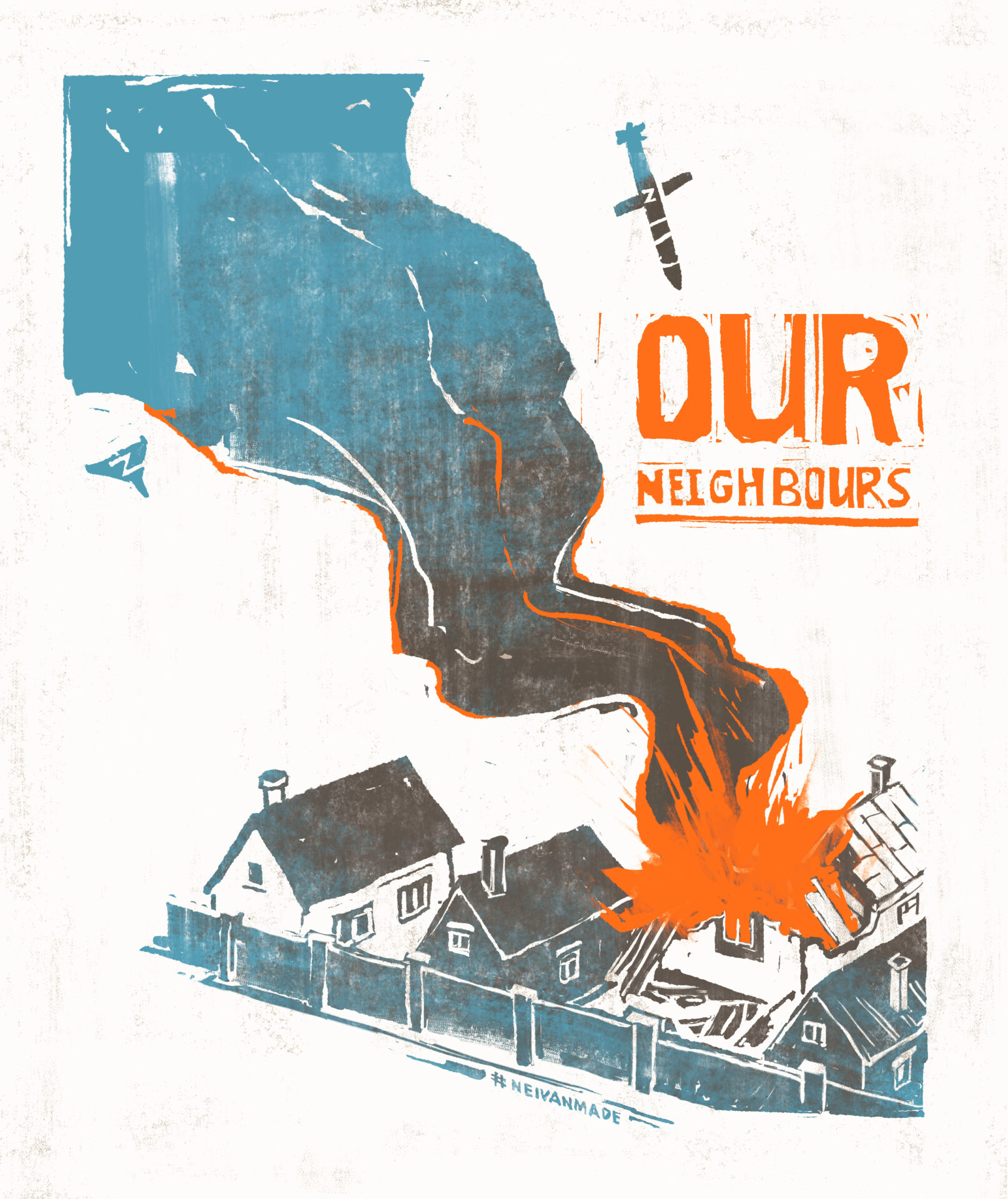 (Image by NEIVANMADE)
Russia hit Kharkiv again overnight:
Tonight Russia attacked Kharkiv with Iranian kamikaze drones from Belgorod. At least four hit densely populated areas. Luckily, the buildings were empty. pic.twitter.com/pTIhbAQ1jb

— Maria Avdeeva (@maria_avdv) August 1, 2023
And Ukraine had another go at Moscow:
This IQ tower in Moscow City is kind of unlucky. Drone hit it again. pic.twitter.com/ytMsevbfa9

— Maria Avdeeva (@maria_avdv) August 1, 2023
Here is President Zelenskyy's address from earlier today. Video below, English transcript after the jump.
The occupiers will strongly feel the consequences of our work – address by the President of Ukraine

1 August 2023 – 21:52

I wish you health, fellow Ukrainians!

This day began with very informative reports from representatives of the defense and security forces of our country.

Head of the Security Service of Ukraine Malyuk and Minister of Internal Affairs Klymenko on the liquidation of the consequences of Russian terrorists' attacks on our cities: Kharkiv, Kryvyi Rih, Kherson, and our other cities.

General Zaluzhny reported on the general situation in the defense. Generals Syrsky and Tarnavsky reported on the front and specific directions. Commander of the Air Force Oleshchuk reported on the results of the use of air defense. "We are constantly working with our partners on a daily basis to bolster our sky shield, step by step we are adding protection.

There was also a separate detailed report by Chief of the Main Intelligence Directorate Budanov – the occupiers will definitely feel the consequences of our work. They will feel it strongly.

We are preparing a number of international events – this week will be very important for Ukraine and our foreign policy.

A month remains before the start of the new political season in our partner countries. And we will do everything possible to make this season as conducive as possible to our movement forward, to victory, to our desire to restore peace for the whole of Ukraine – without exception. More political support for Ukraine. More weapons for our warriors. Full responsibility of the terrorist state for everything it has done against Ukraine, against our cities, villages, and people.

And today I would like to honor our warriors from the areas in Donbas and the south of our country more specifically, by name. Warriors whose bravery and courage are special. The story of each of them is a true heroism!

Soldier Andriy Kalkutin, the 56th separate motorized infantry brigade of Mariupol. Soldier Pavlo Karasiov, the 28th separate mechanized brigade. Soldier Viktor Konstantiuk, the 30th separate mechanized brigade. Soldier Roman Sydorchuk, the 33rd separate mechanized brigade.

Senior Soldier Andriy Hora, the 5th separate assault brigade. Senior Soldier Dmytro Humeniuk, the 214th separate special battalion. Senior Soldier Mykola Zaruchevskyi, the 55th separate artillery brigade. Senior Soldier Yaroslav Ilkiv, the 24th separate mechanized brigade.

Junior Sergeant Taras Vozniuk, the 3rd separate assault brigade. Junior Sergeant Serhiy Savchuk, the 36th separate marine brigade. Well done, guys!

Junior Sergeants Mykola Paytsan and Mykhailo Shcherban, Sergeant Ihor Apolitov – all three are from the 65th separate mechanized brigade. Junior Sergeant Ruslan Kryvalets, the 110th separate mechanized brigade.

Sergeant Serhiy Datskiv, the 25th Sicheslav separate airborne brigade. Sergeant Oleksandr Pshenychuk, the 47th separate mechanized brigade. Senior Sergeant Andriy Samohalskyi, the 22nd separate mechanized brigade. Lieutenant Ihor Lytvyn, the 57th separate motorized infantry brigade. Major Yaroslav Volianskyi, the 44th separate artillery brigade.

I thank you, guys, for the enemies you destroyed and for the brothers you saved! I am proud of your results! You are our pride, you are the pride of Ukraine.

Glory to all our warriors!

Glory to everyone who is fighting for Ukraine, who is helping us bring our victory closer!

Glory to Ukraine!
The cost:
Eleonora Maltseva was killed in the line of duty. She has been defending Ukraine since the beginning of russian aggression nine years ago. Eleonora used to play for "Bilychanka" sports club, a 10-time national futsal champion, and was a member of the national futsal team.
She… pic.twitter.com/jobnUEMakf

— Defense of Ukraine (@DefenceU) August 1, 2023
Eleonora Maltseva was killed in the line of duty. She has been defending Ukraine since the beginning of russian aggression nine years ago. Eleonora used to play for "Bilychanka" sports club, a 10-time national futsal champion, and was a member of the national futsal team.
She gave her life so that her 14-year-old son and all Ukrainian children could live in a free country. We will prevail. That is our promise.
Russian Occupied Sevastopol:
Explosions/strike in Crimea, Sevastopol area. pic.twitter.com/TLFlg5zZV3

— Special Kherson Cat 🐈🇺🇦 (@bayraktar_1love) August 1, 2023
Kherson Region:
/2. Map for better understanding of the location.
+ correct source linkhttps://t.co/rw7fHBt8kW pic.twitter.com/VXDi2Ah8vW

— Special Kherson Cat 🐈🇺🇦 (@bayraktar_1love) August 1, 2023
Poland:
Oopsie!
/2. Nice thread with geolocation of Belorussian helicopters over the Polish/NATO territory https://t.co/KJMDj6vRF3

— Special Kherson Cat 🐈🇺🇦 (@bayraktar_1love) August 1, 2023
Here's the full text of the first tweet:
The Ministry of Defense of Poland reported that today, 1 August 2023, two Belorussian helicopters violated the Polish state border.
"The border crossing took place in the Bialowieza area at a very low altitude, making it difficult to detect by radar systems… The Belarusian side had previously informed the Polish side about the trainings… NATO was informed of the incident…" – Polish Ministry of Defence.
Full- https://gov.pl/web/obrona-narodowa/komunikat-mon-granica

Earlier today, Polish media published photos or Belorussian Mi-8 and Mi-24 near Bialowieza area. When the photos were published there were no official confirmation that the polish border was violated by Belorussian helicopters yet.
https://wiadomosci.wp.pl/bialoruskie-smiglowce-niedaleko-bialowiezy-generalowie-komentuja-6925857320102528a?amp=1
The Financial Times is reporting trouble with the US's ability to ramp up production of 155mm shells.
The Biden administration is seeking to increase stretched supplies of crucial munitions for Ukraine to support the counteroffensive against Russian occupying forces.

The weapons effort is focused on delivering more 155mm calibre shells used in the howitzers Ukraine is deploying along the front line, officials said, and includes supplies from international allies in the short term and plans to ramp up US production in the next two years.

"I personally sit in my office every morning and spend 30 minutes on 155[mm] ammunition," US national security adviser Jake Sullivan said last month at the Aspen Security Forum.

Officials said the Biden administration had been aware for months that Ukraine's high burn-rate of munitions would begin to stretch supplies and had stepped up efforts to get the shells to the front line as the war entered a crucial phase. European supplies have also become stretched, and the Financial Times reported last week that Ukraine had begun firing rockets made in North Korea.

"We are actively working as rapidly as possible to build out the production lines for 155," Sullivan said. "We do not want to lose a day and there is not a tool, authority or dollar that we're going to set on the sidelines to not being able to do that."

The US has already struck deals with Bulgaria and South Korea to supply the shells to Ukraine and is in talks with Japan to do the same, officials said.

But a US Army effort to increase monthly output of the crucial munitions to 90,000 will take until 2025, highlighting the challenge of ramping up such production quickly, particularly when the US had not previously been focused on it.

"Prior to the Ukraine spin-up, most of the army's focus was on building out new tank munitions," said Retired Brig. Gen. Guy Walsh, executive vice-president at the National Defense Industrial Association.

The Pentagon has asked to buy only about 790,000 155mm rounds over the past 10 years, mostly for use in training exercises. That suggests the US has already given Ukraine more than the quantity it procured in 155mm purchases over the past decade, according to a report by the Center for a New American Security think-tank in Washington.

Compounding the effort to ramp up production was a US decision to downsize its defence industrial base after the cold war.

"We did not anticipate or prepare for a long war and the industrial base was constrained for efficiency," said Mark Cancian, senior adviser at Washington's Center for Strategic and International Studies

The munitions effort by the US and its allies comes as Ukraine intensifies its weeks-old counteroffensive in the south and east of the country. On Thursday and Friday, Kyiv said it had recaptured Staromaiorske, a village in south-eastern Donetsk region that had been under Russian occupation since early in the full-scale invasion.

Artillery warfare has dominated much of the fighting on the front line, with both sides firing thousands of shells each day.

The dearth of US supplies of 155mn shells to support the current push was an important driver behind President Joe Biden's controversial decision last month to authorise shipments of cluster munitions to Ukraine.

The decision "helped ensure that Ukraine has the ammunition it needs and that they would not run out", one US official said.

"We're at the point where they're supplying Ukraine at the level they can, and they've given them as much as they can, while keeping the reserves that they think are important to have in case there were an unforeseen crisis," said Stacie Pettyjohn, director of the Defence Program at CNAS.
More at the link!
Ukrayinska Pravda is reporting that the US has signed a deal with Bulgaria and South Korea to supply Ukraine with 155mm shells.
Details: Officials cited by the newspaper say the United States has already signed agreements with Bulgaria and South Korea to supply shells to Ukraine and is negotiating with Japan on the same.

The Financial Times says that the Biden administration has been aware of Ukraine's  depleted ammunition stockpile for several months and has stepped up efforts to deliver the shells to Kyiv.
Commenter YY_Sima Qian asked for my take on this tweet by Ukrainian Army officer Tatarigami:
While minefields and insufficient supplies from the West undoubtedly contribute to drawbacks, it is essential to recognize that failures in planning and coordination at the commanding stage above the brigade level lead to far more significant drawbacks. In any war or military…

— Tatarigami_UA (@Tatarigami_UA) July 28, 2023
Here's the full text of the tweet:
While minefields and insufficient supplies from the West undoubtedly contribute to drawbacks, it is essential to recognize that failures in planning and coordination at the commanding stage above the brigade level lead to far more significant drawbacks. In any war or military operation, there are both competent and ineffective commanders.

However, the main question is whether we will draw conclusions based on the performance of certain generals or simply lay blame on the West and minefields. Whether the assault concludes in Crimea or elsewhere in the South, it's vital to acknowledge both victories and failures and hold individuals accountable for serious shortcomings.

No amount of NATO training for NCOs and privates can compensate for the absence of similar training and the right mindset among certain senior officers.

To conclude, I would like to share a brief radio interception between Russian service members that I heard almost a month ago:

– How is it going for you guys? Are you holding?
– Yeah.
– What about Ukrainians? What do you think?
– I have a feeling that their assault was planned by Gerasimov and executed by Muradov.
There are a couple of follow ons:
Accountability is necessary because poor decision-making leads to avoidable casualties, and overlooking mistakes encourages impunity. While the Russians are getting seriously destroyed and have losses in equipment, personnel, and command, we still need to address our mistakes

— Tatarigami_UA (@Tatarigami_UA) July 29, 2023
No, in fact there are a lot of good news. But victories won through the bravery and motivation of soldiers and junior officers must not overshadow serious mistakes made by their superiors. Accountability remains essential at all levels.

— Tatarigami_UA (@Tatarigami_UA) July 29, 2023
– We are a year and a half into this war, and we still do not have the correct number of senior officers training abroad

– We do not properly or fully involve advisers and retired specialists from allied countries, especially from the US who can assist us

– Still no divisions

— Tatarigami_UA (@Tatarigami_UA) July 29, 2023
There's a lot to unpack here. First off, a good chunk of this is not new for or from Tatarigami. We've seen the interviews with the Ukrainian military's senior leaders where they have all been very candid about having to work hard on themselves to remove the indoctrination into the Soviet way of war that they grew up with as officers. And we know that most if not all of the more junior officers, NCOs, and enlisted have basically been creating their own Ukrainian way of war since the initial Russian invasion in 2014. Where the issue seems to be is in the middle. And it takes a long time for that to work its way out. Some of you may remember that the late GEN Odierno once got himself in a lot of trouble over not wanting to do any of the counterinsurgency stuff. He didn't see the need. Because at the time that doing so became the theater strategy he was at a point in his career where he had been educated and trained as an officer that the US was not going to do that stuff again. He got rhetorically smacked around a bit and some of the generals senior to him, as well as some of his peers, more quietly explained to him why he was wrong and he eventually came around. By the time he was Chief of Staff of the Army he was unabashedly demanding more of the type of things I provide in my professional work. He had an entire slide with little word clouds that had culture on them in bold font all over the place. Unfortunately, including for my career, the Army decided it could outlast him. Because the US Army is NOT a learning organization. GEN Odierno was not the only US general or even colonel or lieutenant colonel that didn't embrace the change. Some came around, some were a real problem. It is this type of dynamic that Ukraine is facing.
We've covered the training the US and its NATO allies are providing the Ukrainians several times over the past few months, largely because of the concerns the actual Ukrainian Soldiers have regarding the training they are getting. Here the Ukrainian's needs have run hard into the American way of military training, especially for non-peer foreign allies and partners. So this is definitely a deficit that needs addressing, but it is really only something the US and its NATO allies can fix in regard to Ukrainian criticism.
As for properly bringing over advisors, my understanding is that it is hit or miss. Some of these folks are great. Some of them are trying to create personal national security brands by going to Ukraine to do whatever it is they're doing. We've also seen this with some of the American volunteers for the International Legion.
Finally, the issue about echelons above brigade seems legit. Especially as the Ukrainian military transitions from the legacy Soviet model to the NATO one. From the distance and safety of my home in the US, I think that echelons above brigade as organizing and coordinating headquarters would be very useful. But only if the commanders and staffs have been able to break themselves away from the legacy Soviet military model they grew up in as officers. Even more important is that subordinate commanders have to be empowered to make decisions when they do not have time to seek approval from higher.
Last night Anonymous at Work asked:
What's the disruption going to be for the lack of rail on the Russian southern and western fronts?  Artie's getting chewed good, I imagine that regular ammo isn't available in quantity, but what's the food/water situation like?  Without rail and the roads not in great shape, what gives?
The Russians move things forward as far as possible by rail and then by truck. So any disruption is going to have an impact. If the Ukrainians can continue to attrit the railways and bridges, as well as ammo dumps and other supply and logistics facilities, then the Russians are going to have a hard time.
That's enough for tonight.
Your daily Patron!
Look what I have😍 I named this demining machine "Donatella". She came to the Chernihiv region for a while, to help us demine our territory. But I dream that one day I will have my own Donatella, DOK-ING MV-4 (this is her real name☺️). pic.twitter.com/FDX6DVo57k

— Patron (@PatronDsns) August 1, 2023
After the Victory — for sure ☺️❤️

— Patron (@PatronDsns) August 1, 2023
Open thread!