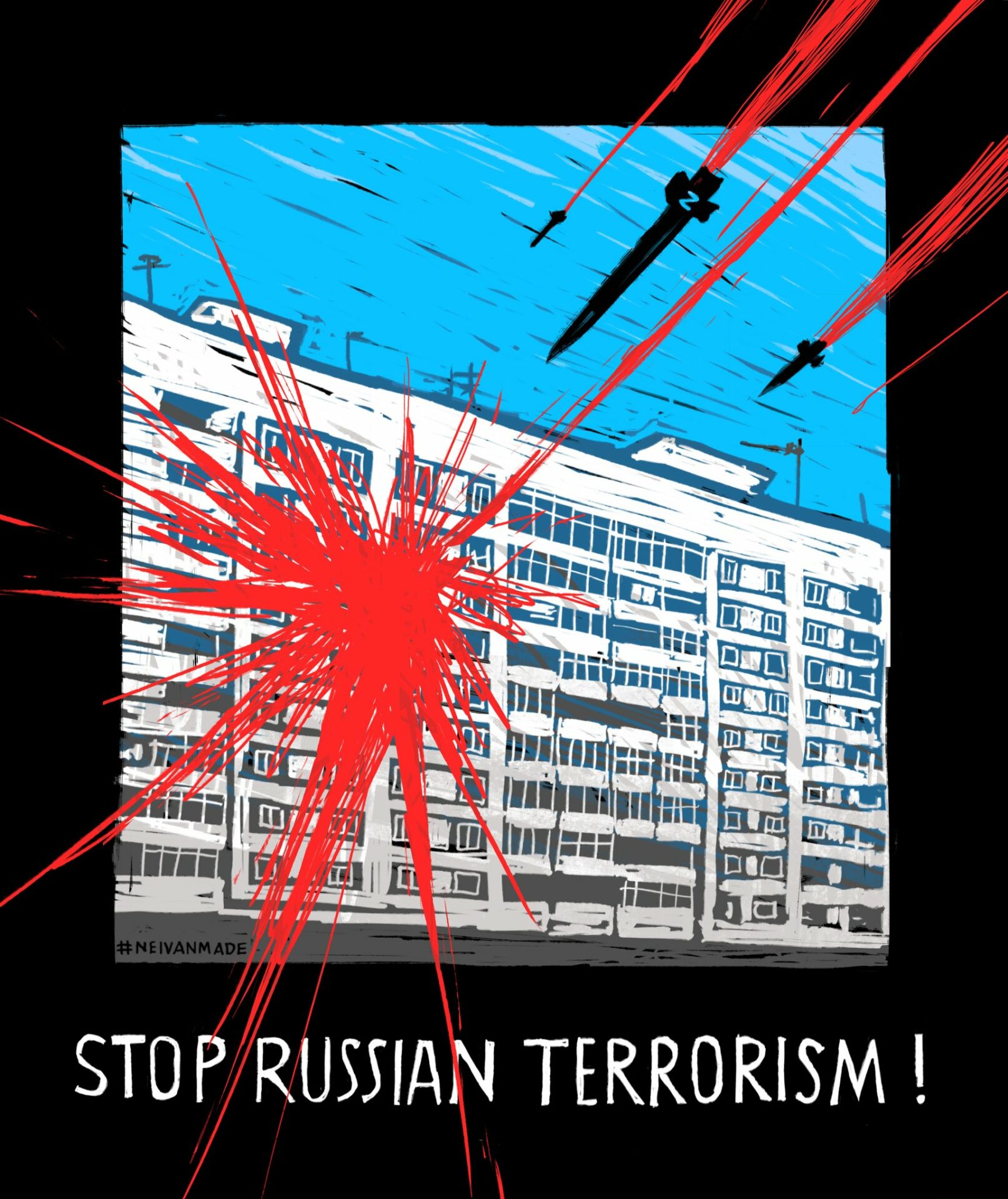 (Image by NEIVANMADE)
Today Russia attacked with 4 deadly Kinzhal missiles targeting Starokostiantyniv air base. One was shot down over Kyiv. Three others reached Ivano-Frankivsk. As Air Force Command reported, Russia wanted to eliminate the pilots gearing up to train on the F-16. pic.twitter.com/E7uvqo53cr

— Maria Avdeeva (@maria_avdv) August 11, 2023
Today, russia attacked Ukraine with four Kinzhal hypersonic aeroballistic missiles. One missile was shot down in the sky over Kyiv. Unfortunately, the rest of the missiles hit objects of civil infrastructure and residential buildings in Ivano-Frankivsk region. An 8-year-old boy… pic.twitter.com/vENDDrmCZ3

— Defense of Ukraine (@DefenceU) August 11, 2023
Today, russia attacked Ukraine with four Kinzhal hypersonic aeroballistic missiles. One missile was shot down in the sky over Kyiv. Unfortunately, the rest of the missiles hit objects of civil infrastructure and residential buildings in Ivano-Frankivsk region. An 8-year-old boy was killed.
This is the boy who was killed today by the russian Kinzhal hypersonic missile.
Volodymyr will forever remain 8 years old. pic.twitter.com/OeNZne3iK5

— Defense of Ukraine (@DefenceU) August 11, 2023
If it is all we can do, because we are not elected and appointed officials and decision makers who could do something, we can, at least, bear witness.
Here is President Zelenskyy's address from earlier today. Video below, English transcript after the jump.
We are doing everything to ensure that Ukraine remains a guarantor of food security and has access to global markets – address by President Volodymyr Zelenskyy

11 August 2023 – 17:10

I wish you health, fellow Ukrainians!

A report on this day.

In the morning, we had a conference call. Military, intelligence, government officials. The conversation was accompanied by the sounds of air defense in Kyiv region.

There were reports by commanders and ministers.

The Ministry of Internal Affairs reported on the situation in the regions, the liquidation of the consequences of Russian strikes, and the work of the State Emergency Service. I am grateful to all Ukrainian rescuers!

The Ministry of Strategic Industries reported on the production of munitions and equipment in Ukraine. We are increasing the volume. Constantly increasing.

The Security Service of Ukraine is doing a good job against collaborators. Thank you, guys!

In the afternoon, I held a meeting of the National Security and Defense Council on "military commissars". There will be another meeting on the military medical commissions.

We are constantly working with our partners at all levels. Today, Head of the Office Yermak, Minister of Foreign Affairs Kuleba, and the Office's specialized deputies, Andriy Sybiha and Ihor Zhovkva, worked with the ambassadors of partner countries on the Peace Formula, on getting countries to join.

And I spoke with the President of Zambia. Bilateral relations, the Peace Formula. Another country in the Global South supports our initiatives. This is very important.

We had a separate meeting with Chief of the Main Intelligence Directorate Budanov, Commander-in-Chief Zaluzhny, Navy Commander Neizhpapa, Head of the Security Service of Ukraine Malyuk, and the Ministry of Infrastructure to discuss alternatives to exporting grain through the transit corridor. We are doing everything possible to ensure that Ukraine remains a guarantor of food security and that our people have access to global markets.

And, of course, the frontline. Every direction, every key effort. Daily attention. Daily support. Daily reinforcement.

I am grateful to everyone who is fighting for Ukraine! To all those who are now in trenches, on combat missions, at combat posts!

I thank everyone who works for the state!

Glory to Ukraine!
More on yesterday's strike in Zaporizhzhia:
Video of the terrifying moment a second Russian cruise missile strikes the #Reikartz Hotel in #Zaporizhzhya (often used by UN staff when they're in the city). This was a deliberate double attack on a hotel used by foreigners, with high-precision cruise missiles. A #warcrime. pic.twitter.com/m3kAnu5X0x

— Euan MacDonald (@Euan_MacDonald) August 11, 2023
russia continues to systematically destroy Orthodox churches in Ukraine.
The Church of the Holy Apostles Peter and Paul in Zaporizhzhia.

📷Albert Koshelev pic.twitter.com/jJn61IKPIH

— Defense of Ukraine (@DefenceU) August 11, 2023
These photos of @DubchakA from Zaporizhzhia hit the heart. Valentyna, 66-year-old teacher, was taking a walk, when a piece of shrapnel hit her in the back. Injuries were incompatible with life🕯️ pic.twitter.com/yudgpWpdKm

— UkraineWorld (@ukraine_world) August 11, 2023
Robotyne (there is some offensive language, or, at least, in the American context):
Outskirts of Robotyne, brothers' morale high. pic.twitter.com/RtthUo03hp

— Dmitri (@wartranslated) August 11, 2023
Urozhaine, Donetsk:
As said, tanks of the 35th brigade of Ukraine firing at Russian positions in the settlement of Urozhaine, Donetsk region.
47.75156, 36.81769https://t.co/iAT1BKUshL pic.twitter.com/izOFLrP3GN

— Special Kherson Cat 🐈🇺🇦 (@bayraktar_1love) August 11, 2023
Claimed double JDAM strike on Urozhaine, Donetsk region
(47.7471179, 36.8182510) pic.twitter.com/949yJ134Jv

— Special Kherson Cat 🐈🇺🇦 (@bayraktar_1love) August 11, 2023
Kharkiv Oblast:
Destruction of the Russian tank by the 103 territorial defence and 25th brigades of Ukraine. Kharkiv region
P.S: I have a theory that Russian tanks which start to give off intense white smoke after being hit are almost always T-90M. Let's see if it is relevant. https://t.co/wH5a5LvukF

— Special Kherson Cat 🐈🇺🇦 (@bayraktar_1love) August 11, 2023
Moscow:
Residents of Moscow can't contain their emotions after an unidentified drone landed/crashed close to their home in the western part of the city. pic.twitter.com/YD8danVfmo

— Dmitri (@wartranslated) August 11, 2023
President Zelenskyy's administration is continuing to crack down on public corruption:
Zelensky cleans house, firing all Ukrainian military recruitment heads. Some in recent months have come under scrutiny or investigation in connection with corruption and embezzlement. The president says he'll appoint wounded soldiers to take over. https://t.co/GvP2I5H1fw

— Christopher Miller (@ChristopherJM) August 11, 2023
Someone wanted a Russian tank going kaboom:
The russians are burning their own T-72.
The probability of getting burned inside such tank is so high, they feel it's much better to destroy it themselves and run away.
The #UAarmy welcomes these moves. pic.twitter.com/mIBDzVT2fL

— Defense of Ukraine (@DefenceU) August 10, 2023
For Omnes:
A short report about "Bohdana" 155mm self-propelled howitzer on the Tatra chassis.https://t.co/A3cC9bRzzy pic.twitter.com/RhR87kBsBz

— Special Kherson Cat 🐈🇺🇦 (@bayraktar_1love) August 11, 2023
The Ukrainian officer who tweets as Tatarigami has an interesting assessment of minefields:
Given the current focus on minefields and mines due to the ongoing counter-offensive, I decided to illustrate a representative minefield layout. While I am unable to share the actual document, I made a comparable graphical representation to convey the specifics.
🧵Thread: pic.twitter.com/8ncm0tBg6v

— Tatarigami_UA (@Tatarigami_UA) August 11, 2023
3/ Minefields commonly consist of an array of distinct mines, namely the OZM-72 Bounding fragmentation anti-personnel mine, the PMN anti-personnel pressure mine, the MON Directional Anti-personnel Mine, the TM-62 Anti-tank blast mine, and the YaRM anti-landing mine. pic.twitter.com/jr9TWOpjPK

— Tatarigami_UA (@Tatarigami_UA) August 11, 2023
5/ In areas where our recon teams could potentially land after crossing water bodies, YaRM anti-landing mines are placed. Pathways to treelines and probable landing zones are secured with OZM and MON mines. The remaining areas typically covered with PMN anti-personnel mines. pic.twitter.com/V8rqLcW9jn

— Tatarigami_UA (@Tatarigami_UA) August 11, 2023
7/ If you found this thread valuable, please support by liking and retweeting the first message of the thread. Your engagement enables me to provide better materials more frequently.

— Tatarigami_UA (@Tatarigami_UA) August 11, 2023
The Financial Times took a deep dive into the policy issues that the EU is grappling with in regard to Ukraine's potentially joining:
Over breakfast in late June at the five-star Hotel Amigo in Brussels, the most powerful leaders of the EU began in earnest their discussions on how to bring Ukraine into the club.

The heads of governments of the EU's 10 largest states by population, including France, Germany, Poland and Romania, chewed over the myriad ways such a significant step would dramatically reshape the bloc.

According to people briefed on the gathering, the informal talks made clear how many different issues were at stake — and how radically the union would need to adapt to take on such a historic expansion.

Wheels were set in motion. The leaders present agreed to create a "workflow process" for future talks and, after the confab, national government officials began the tough task of coordinating positions. "We wanted to see if we could create sufficient political support to go forward," says one of the people briefed. "It's such a big challenge . . . The goal was to see the different views."

The meeting made one thing clear: it confirmed that an idea that might have seemed preposterous even 18 months ago is now being taken seriously.

War in Ukraine radically altered the calculus. By brutally underscoring the danger of leaving states in a geopolitical 'grey zone', outside both Russia and western spheres, Moscow's invasion sparked a profound shift in the EU's enlargement policy from passivity to proactive strategising.

While EU leaders talk of Ukraine being on "a path" to membership, many member state officials and diplomats privately question whether it will really happen.

Not only is Ukraine a country at war, but it would be the bloc's fifth largest member by pre-conflict population and its poorest by far, which has implications for how its budgets would be divided up. Yet it is also Kyiv's bid, more than any other, that has raised profound questions about the future of the entire European project.

"We have had to make a huge shift in our mindset since the start of the war in Ukraine. Now we see enlargement as something that has become inevitable, as something that is required to stabilise our continent," says the person briefed on the breakfast meeting. "So, having understood that, we need to urgently work out how we go about all this, and the monumental consequences for our union in terms of finance and decision-making."

The war may have changed the political winds, but it has not altered the immutable challenges around the EU's capacity for expansion. In Brussels, and across the union's capitals, officials are not only asking if Ukraine can carry out the long list of reforms required to join the EU when the war is over, but whether the bloc can reform itself sufficiently to absorb Ukraine as well as a host of potential new members.

With Ukraine's president Volodymyr Zelenskyy pushing hard for an agreement to open accession talks by December, there is a rising sense of urgency that the EU's capacity to accommodate new member states cannot simply be ignored by keeping the entry door shut.

The debate on how expansion might change the EU has largely been conducted privately, as politicians seek to avoid stoking public debate over something potentially divisive that also remains a distant possibility.

Many member states, for example, are at pains to find solutions that avoid reworking the EU's overarching treaties, a lengthy and politically fraught process that would require referendums in many states, offering domestic flashpoints for Eurosceptic campaigns.

But the decision to put "absorption capacity" on the agenda for discussions among the EU's 27 leaders in Granada this October reflects the recognition that the topic can no longer be kept under wraps.

"It's about identifying the problems we need to solve before countries join," says one EU diplomat. "We have to think through what it means . . . how do we ensure we keep the union functioning?"

At this stage, discussions are more about identifying the questions enlargement would raise for the EU, not attempting to reach any policy decisions. That is understandable given how uncertain the outlook for enlargement actually is.

A second question is: what institutional reforms would be necessary to ensure the EU could ensure smooth decision-making processes if the union comprises as many as 35 capitals, up from the current 27. A failure to overhaul its procedures could hobble the EU, particularly in policy areas that require unanimity.

Ukraine's membership would weigh most heavily on the EU's finances. As an internal Council of the EU note seen by the FT highlights, the two biggest areas of the EU budget are the Common Agricultural Policy (CAP) and cohesion, or regional spending, which together account for around 62 per cent of the EU's seven-year budget or around €370bn each.

Admitting Ukraine, with farmland that exceeds the size of Italy and an agricultural sector that employs 14 per cent of its population, would be a game-changer. It follows that Ukraine would become the biggest recipient of CAP funding, the majority of which comprises direct payments to farmers or income support.

The consequences would be severe: other farmers in the union would have to accept much lower payments or the EU would need to agree a massive boost in its agricultural budget.

In France, where the farming sector has huge clout, the political consequences would be daunting. The same applies to countries that have been prominent cheerleaders for Ukrainian accession. Poland, for example, whose president Andrzej Duda in 2022 called for Ukraine to benefit from a fast-track membership process, went on to ban some Ukrainian agricultural imports a year later. Warsaw took action after a glut of cheap grain provoked vociferous protests by its farmers, and demanded the commission expand those curbs into other products this summer.

"Ukraine has not even entered the EU yet, and already it has damaged the single market," notes a second EU diplomat.

When it comes to regional funding, a note prepared by the Brussels Institute for Geopolitics think-tank for the pre-summit breakfast meeting laid out the high stakes. The majority of the current accession candidates, including Ukraine, have a GDP per capita, measured by purchasing power parity, that is below Bulgaria, the EU member with the lowest income.

"The logic of cohesion policy is that funds would need to be retargeted at the union's new members, to the disadvantage of current beneficiaries, unless more EU revenues were to be raised," the policy paper notes. In other words: "Either the pie grows, or each gets a smaller slice."
Amazingly, much, much more at the link.
There's two things going on here. The first is that EU leaders are taking this seriously and doing the hard, slow, tedious work to try to think through what will need to be done to bring Ukraine into the EU. The second is something else. Specifically, as is the case with NATO, when Ukraine emerges from the war with Russia, the EU needs Ukraine as much, if not more, than Ukraine needs the EU. Right now the only thing standing between and stopping Putin's plans to also move against the Baltic states in the EU and NATO is Ukraine, its amazing resilience and cohesion, and its stalwart defense against Russia's genocidal re-invasion. This dynamic is the same for both NATO and the EU. Either admit Ukraine or shame yourself by leaving the state, society, and people who have been protecting your eastern borders and flank against Russian aggression to make their own way. The former may be a hard bureaucratic lift. The latter is embarrassingly dishonorable.
For those of you into models and HIMARs and good causes:
These Ukrainians at @Wooden_Army are making really nice wooden models of HIMARS systems that can launch missiles, models consist of 580 parts. Their Kickstarter campaign ends in 10 days and they will be donating to a charity.

Check them out, their Kickstarter page has TONS of… pic.twitter.com/IOusF6v756

— Dmitri (@wartranslated) August 10, 2023
These Ukrainians at @Wooden_Army
are making really nice wooden models of HIMARS systems that can launch missiles, models consist of 580 parts. Their Kickstarter campaign ends in 10 days and they will be donating to a charity.

Check them out, their Kickstarter page has TONS of info. Go ahead and claim yours! https://kickstarter.com/projects/woodenarmy/m142-himars-interactive-wooden-kit-of-legendary-weapon?ref=bxlwsw
We be of one blood, you and I. pic.twitter.com/zP3wEXoI0d

— Defense of Ukraine (@DefenceU) August 11, 2023
That's enough for tonight.
Your daily Patron!
A new video from Patron's official TikTok:
@patron__dsns

Доведено, що це фото швидко покращує настрій. Відправляй друзям! :))
Here is the machine translation of the caption:
This photo has been proven to quickly improve your mood. Send it to your friends :))
Open thread!