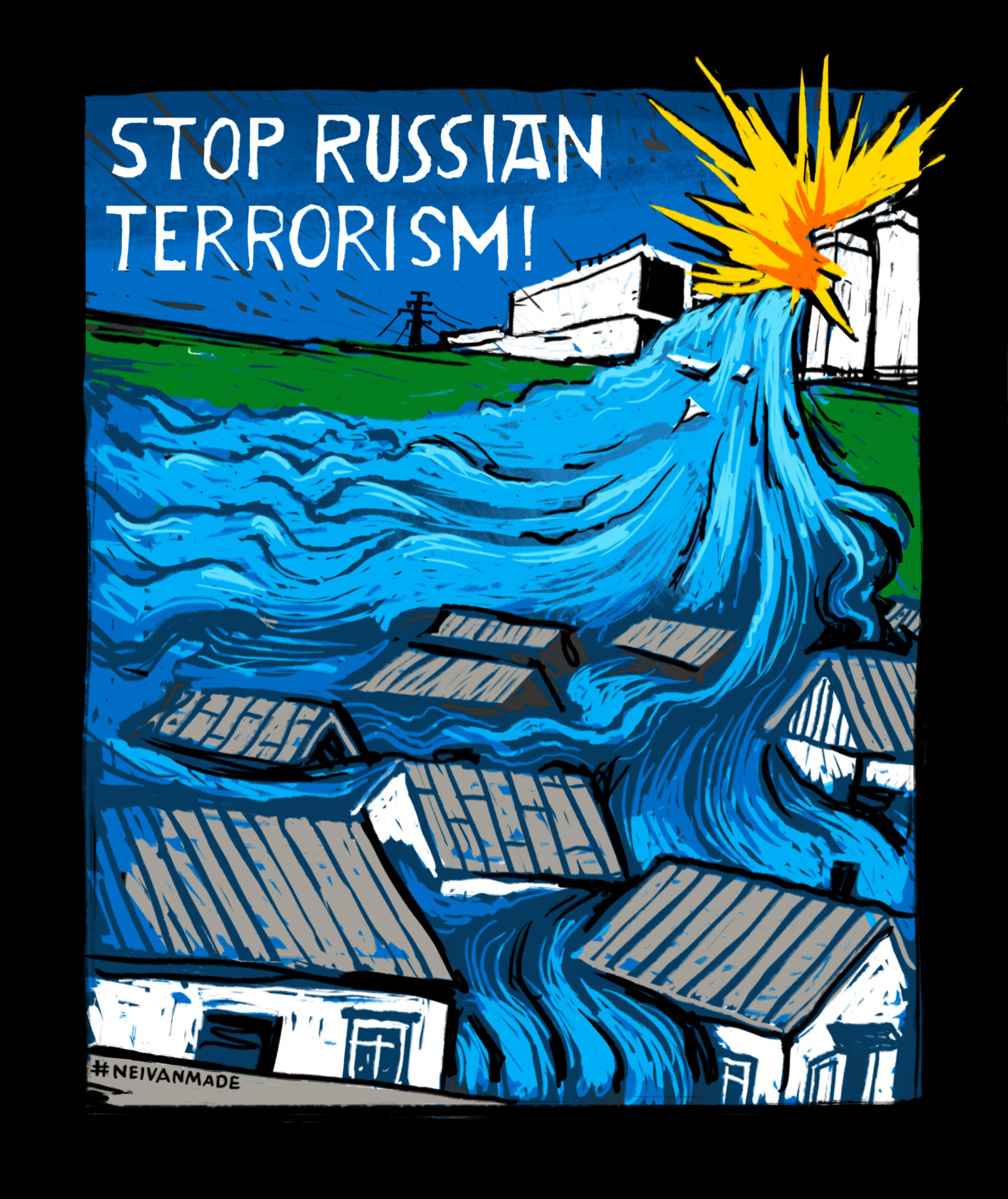 (Image by NEIVANMADE)
Just a quick note: I saw the comments thanking me that were posted after I'd racked out last night. Thank you all for the kind words and you are all most welcome.
As a result of another prisoner exchange, 95 Ukrainian defenders were released from russian captivity.
They are service members of the Armed Forces, the National Guard, and border guards.
Defenders of #Mariupol, including those from #Azovstal, Chornobyl, Snake Island, and… pic.twitter.com/Qrrgi02g3q

— Defense of Ukraine (@DefenceU) June 11, 2023
Full text of the MOD's tweet:
As a result of another prisoner exchange, 95 Ukrainian defenders were released from russian captivity. They are service members of the Armed Forces, the National Guard, and border guards. Defenders of #Mariupol, including those from #Azovstal, Chornobyl, Snake Island, and #Bakhmut, are returning to their families!
Here is President Zelenskyy's address from earlier today. Video below, English transcript after the jump:
It is very important that representatives of international justice have seen with their own eyes the consequences of the Russian act of terrorism at the Kakhovka hydroelectric power plant – address by the President of Ukraine

11 June 2023 – 21:31

Dear Ukrainians!

Today we managed to return 95 more of our people from Russian captivity, 31 of them are defenders of Mariupol. Most of them are privates and sergeants, two officers. The Armed Forces, the National Guard, the border guards. I am grateful to our team involved in the exchanges: Budanov, Yermak, Malyuk, Lubinets. Thank you for this result. Well done, guys! We have to get every Ukrainian man and woman out of Russian captivity.

We are also continuing our rescue operation in the south of Ukraine, and we have managed to evacuate about 4,000 people. Dozens of towns and villages remain flooded, with the worst situation still in the temporarily occupied part of Kherson region.

Again and again, we thank our people: the military, police, and rescuers. I would also like to thank volunteers, doctors, local authorities – everyone who is helping to rescue people after the Kakhovka hydroelectric power plant disaster, and especially those who are helping to get people out, including those from the occupied territories. It is extremely difficult and dangerous, and it is a special kind of heroism. Thank you for every life saved!

Russian terrorists continue to shell evacuation routes, evacuation points, boats that take people away… Today, as a result of one of these attacks, three people were killed, my condolences to their families and friends… Ten more people were injured, including two police officers. It was an evacuation from Kardashynka, a village on the left bank of Kherson region… The occupiers created this disaster by blowing up a dam, leaving people to their fate in flooded towns and villages, and then shelling the boats that are trying to take people away… Even beasts are more moral than you, Russian state.

These days, representatives of the International Criminal Court visited Kherson region. On the very first day after the disaster, the Prosecutor General sent a request to the Office of the Prosecutor of the International Criminal Court to investigate the disaster, and the work has already begun.

It is very important that the representatives of international justice have seen the consequences of this Russian act of terrorism with their own eyes and heard for themselves that Russian terror continues. And it continues with the most cynical and brutal shelling of the flooded territory, the evacuation area… We are already facilitating and will continue to facilitate the most independent and objective investigation by the International Criminal Court. All our law enforcement and other institutions are involved in this process to the fullest extent possible. We provide full access to the affected areas, to witnesses, to all information and evidence. This investigation is very important for the security of the whole world.

Full and fair accountability for Russian terrorists and the terrorist state itself is a prerequisite for preventing such evil from happening again in the world.

Today, our state has taken another sanctions step. Against those who serve the evil that the Russian state has become. Against those who helped to destroy freedom in Russia and play a key role in the repressions on the temporarily occupied territory of Ukraine and in Russia itself. 178 of these individuals were added to our sanctions lists at the request of the Security Service of Ukraine. And we will do everything to make sure that each and every one of these accomplices of the Russian dictatorship is held accountable for everything they have done against people and freedom. For every broken destiny and every criminal decision that helped Russia turn into a terrorist state.

And one more thing. Of course, I am grateful to our warriors for this day. To each of our combat brigades, each of our units. The Khortytsia and Tavria operational and strategic groups of troops – all those who are now in combat, all those who are in positions, all those who are helping… I thank you! Thank you for every step, for every battle, for every destroyed occupier!

Glory to our heroes! Glory to all who defend the life of Ukraine and Ukrainians!

We will win!

Glory to Ukraine!
Here is a video interview from two days ago that President Zelenskyy did with the German news outlet Bild regarding the Russian destruction of the Kakhovka dam. The interview is in English.
Kherson:
Ukrainian forces have rescued 112 people from the left bank of the Dnipro in the Kherson region (occupied by russia), which is suffering from russia-caused flooding.
Unfortunately, three civilians were killed and 23 were injured to date as a result of russian shelling.

— Defense of Ukraine (@DefenceU) June 11, 2023
We will always remember your help, our defenders!

📷André Luís Alves, Evheniy Rozenblatt pic.twitter.com/K3JeBmv9qy

— Defense of Ukraine (@DefenceU) June 11, 2023
#Kherson
An elderly woman is holding her grandson.
They were rescued from occupied territory.

📷 @Liberov pic.twitter.com/L6T2y97td2

— Defense of Ukraine (@DefenceU) June 11, 2023
National police 🇺🇦 about the shelling of the rescue boat by Russians – "It was a big risk, but we couldn't leave people to fend for themselves." In total 21 people were evacuated during this operation. Almost all of them are elderly with limited mobility. https://t.co/GidM1RWsj5 https://t.co/EKTCO2nZCK pic.twitter.com/OY5bB2U6Nu

— Special Kherson Cat 🐈🇺🇦 (@bayraktar_1love) June 11, 2023
From the Ukrainian National Police's Telegram channel (machine translated):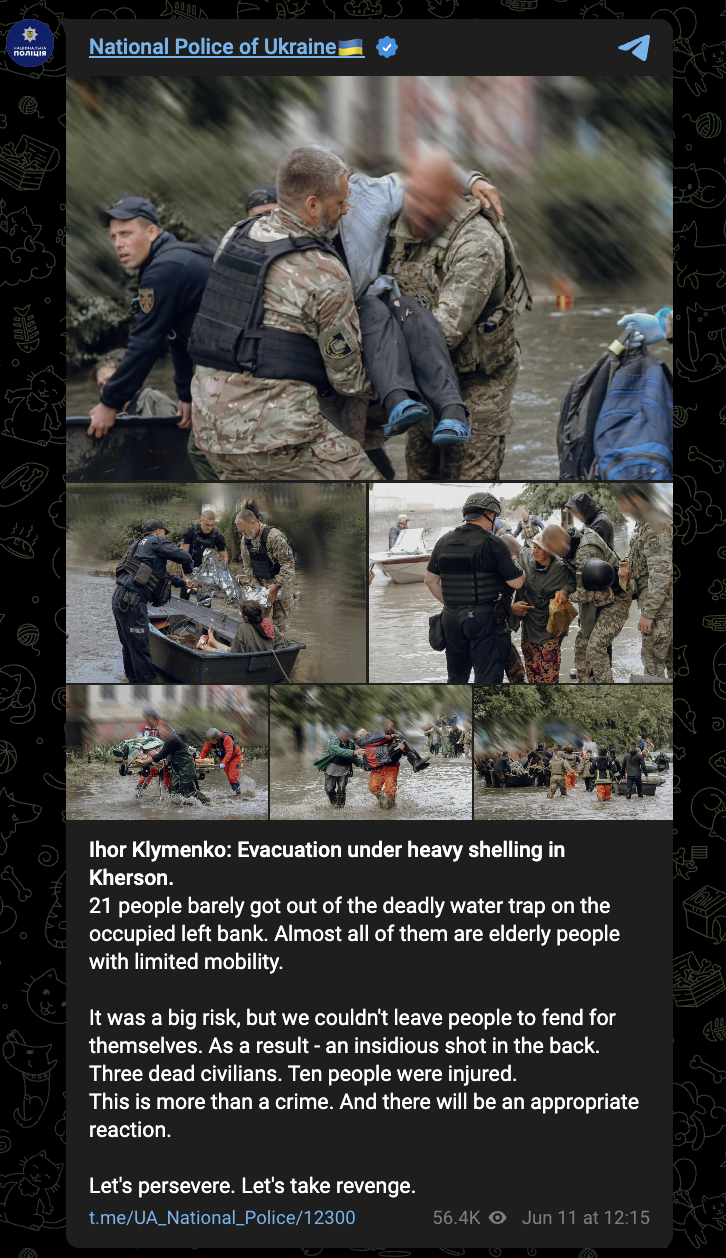 One of you – I think it was either Jay or Another Scott – Gin  & Tonic put the below into the comments last night and it needs to be on the front page.
Russia has now ruined these things for them, and there is likely nothing that can ever come remotely close to making them whole.

— Joel Wasserman (@joelw_762) June 10, 2023
Big international orgs want to take these people out, but they can't possible afford rent, and putting them in a country that would subsidize their existence would be like taking an 80-year-old lifelong dirt farmer from Manitoba and relocating them to central Tokyo.

— Joel Wasserman (@joelw_762) June 10, 2023
I worked with Internally Displaced Persons (IDPs) in Iraq. In that case they were fleeing both the low intensity warfare and the US's, as the occupying power, failure to fix the power system – both generation and transmission – which meant that the water didn't flow through the irrigation canals thereby turning their farms into dust. In the US's case in Iraq it was a combination of incompetence, arrogance, and neo-Con ideology run amok that was causing the problems as the Coalition Provisional Authority had decided the Iraqis would fix the power grid themselves, they had ten years to do it, and they had to do so through a privatized solution. It had been decided in DC that the privatized reconstruction of Iraq's power generation and distribution system would be the pilot and test for what the GOP was then trying to push in the US. In Ukraine it is a significant indicator of Russia's genocidal re-invasion.
We can put the entire Russia killed Major General Budanov in a missile strike bullshit to bed:
Breaking: Stanley Kubrick is alive and lives in Ukraine pic.twitter.com/N24fTwMtPo

— Illia Ponomarenko 🇺🇦 (@IAPonomarenko) June 11, 2023
Ukraine's army said on Sunday it had liberated Blahodatne, Neskuchne and Makarivka, three villages in the south of the Donetsk region — marking a break in at least one layer of Russian fortifications. Troops posted a video raising the 🇺🇦 in Blahodatne. https://t.co/1zWFTqTjFo

— Christopher Miller (@ChristopherJM) June 11, 2023
Video.
Looks pretty official to me. https://t.co/5r8dcgHR9s pic.twitter.com/8ab4ftrSxl

— Def Mon (@DefMon3) June 11, 2023
Officially – "On June 10, the 7th separate battalion AREY of 129th brigade liberated the settlement of Neskuchne"https://t.co/mfSB5OLPS0 pic.twitter.com/rAC6ZqrJVF

— Special Kherson Cat 🐈🇺🇦 (@bayraktar_1love) June 11, 2023
I'm glued to the screen, watching Ukrainian flags rising.

Neskuchne 🇺🇦
Makarivka 🇺🇦
Blahodatne 🇺🇦 pic.twitter.com/XPEGE35Bsa

— Maria Avdeeva (@maria_avdv) June 11, 2023
As mentioned before, positive developments are happening, visually confirmed now. The situation for russians deteriorates due to ongoing losses. However, reports of a major "breakthrough" through the main defensive line (composed of multiple layers) are premature.

— Tatarigami_UA (@Tatarigami_UA) June 11, 2023
For those interested, here is the link to Deep State Ukraine's Map that was referenced in one of the tweet's above.
From The Financial Times:
Ukrainian forces intensified their counter-offensive over the weekend, claiming to have breached Russia's defences and liberated at least three villages in the south-east of the country.

The Ukrainian army said on Sunday that it had liberated Blahodatne, Neskuchne and Makarivka, three villages in the south of the Donetsk region — marking a break in at least one layer of Russian fortifications. Ukrainian soldiers posted a video of themselves raising the country's national flag on a building in Blahodatne and holding their brigade's colours in Neskuchne.

Hanna Maliar, Ukraine's deputy defence minister, said late on Sunday that Makarivka, a third village further south, had also been liberated as "our troops continue their assault operations".

Kyiv has long been reluctant to admit that a counter-offensive had started. But on Saturday, Ukrainian president Volodymyr Zelenskyy said that "the counter-offensive and respective defensive actions are under way".

"It's important that Russia fully feels . . that they don't have much time left," Zelenskyy said during a news conference with Canadian prime minister Justin Trudeau.

The Ukrainian leader said the aim was to liberate some 18 per cent of occupied territory in south-eastern regions, but that no further details would be made public about the offensive.
Much more at the link!
/2. A little earlier, the Deputy Minister of Defense announced the liberation of Makarivkаhttps://t.co/lAwRaEchGi

— Special Kherson Cat 🐈🇺🇦 (@bayraktar_1love) June 11, 2023
For context, Blahodatne and Neskuchne, which Ukraine appears to have retaken, are shaded in black, and I left markers for Makarivka and Urozhaine, where fighting is reportedly taking place. Russia's main defensive line is 10km south of Urozhaine. @Nrg8000https://t.co/0YaHCqGmcy https://t.co/v5ZxwBFN31 pic.twitter.com/q71Hh5OwSa

— Rob Lee (@RALee85) June 11, 2023
— Rob Lee (@RALee85) June 11, 2023
Rain, however, is in the forecast:
Rainy weather in most of the actual and potential battle space forecast up to and including 15 June. Not great for battlefield mobility, air operations and overhead imagery https://t.co/ghVla2O7W2

— François Heisbourg (@FHeisbourg) June 11, 2023
Bakhmut:
In February 2022, Russia likely planned to complete the capture of the whole of the Donbas region within 10-14 days.

But in Bakhmut, for every 48cm gained, one of its soldiers has been killed or wounded.

Ukraine fights on.

🇺🇦 #WeStandWithUkraine 🇺🇦 pic.twitter.com/zELnJJwqXN

— Ministry of Defence 🇬🇧 (@DefenceHQ) June 11, 2023
Think about that, that's an astounding statistic: "in Bakhmut, for every 48cm gained, one of its soldiers has been killed or wounded."
Yesterday, Russian Minister of Defense Shoigu decided to open up a new line of effort in his war with Prigozhin. It went about as well as everything else Shoigu does that isn't in his area of expertise, which is construction (I covered this way back in March 2022).
Prigozhin responds and takes it as an opportunity to dunk on Shoigu. It's clear there's going to be a reckoning at some point.https://t.co/drJBdQqmqQ https://t.co/UnktfnBiFs pic.twitter.com/Ssf85yaCgg

— Eliot Higgins (@EliotHiggins) June 11, 2023
Here's the screen grab of Prigozhin's full statement: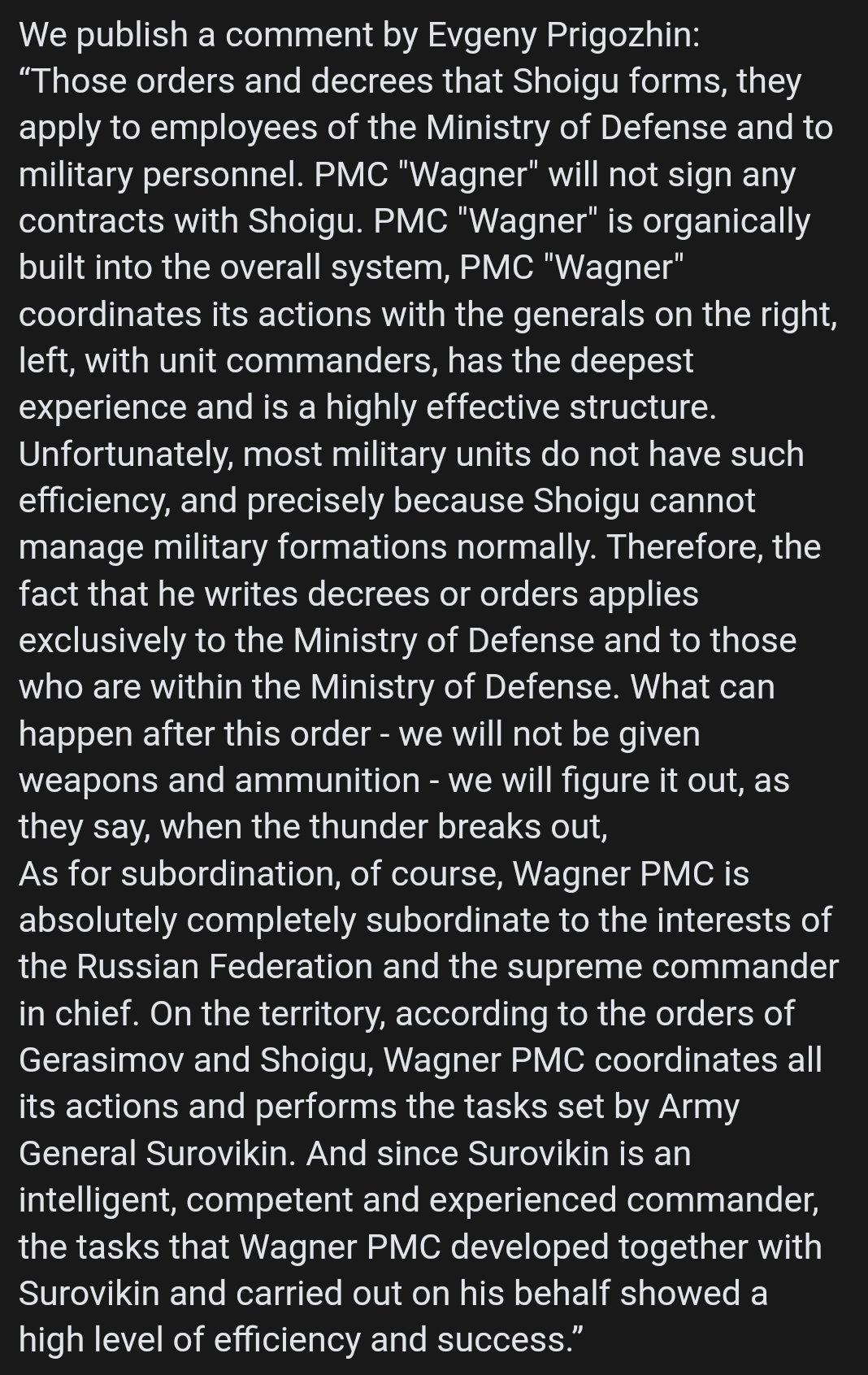 The reason that Prigozhin is allowed to keep trashing Shoigu and Chief of the Russian Defense Staff Gerasimov is because of how Putin actually runs Russia's national security apparatus. The military, as has always been the case regardless of who runs Russia and what the system of governance is, is kept weak so as not to present a threat to Putin. The siloviki, as well as those oligarchs who are also siloviki or who are Russian organized crime or who are both, are empowered to act as they see fit. Success is rewarded, failure is punished. It is why we see different elements of Russian intelligence all doing things in the same spaces – cyber warfare, wetwork, running not for covers (what the Russians call "illegals") – without any apparent coordination. Everyone is jockeying for position and favor with Putin. And while Prigozhin was willing to grind up approximately 50,000 mercenaries in the attempts to take Soledar and Bakhmut, he did take them. Even if just barely. And it is his mercenaries that are advancing Russia's interests in Syria and Libya, as well as in other parts of Africa alongside a number of Prigozhin's corporate subsidiaries and non-governmental organizations. Shoigu can issue as many orders as he wants, as long as Prigozhin is successfully advancing Russia's – and Russia here means Putin's – interests in key regions of the world he is going to be allowed to operate as he sees fit.
The Arabat Spit:
Incredible destruction at the russian HQ in Shchaslyvtseve, on the Arabat split.

Potentially NYE Makiivka levels of KIA, only this time with Storm Shadow instead of HIMARS. pic.twitter.com/dLybJmE7nG

— Artoir (@ItsArtoir) June 10, 2023
It seems the HQ was moved sometime between April and now, from the nearby recreation centre to the Hotel Chalet Thermal. Perhaps after it was so widely publicised during Putin's visit. https://t.co/umi5sZjagZ pic.twitter.com/haSbtw78vo

— Artoir (@ItsArtoir) June 10, 2023
Peter Pomerantsev, who wrote the book If Nothing Is True, Everything Is Possible: Adventures in Modern Russia, which is one of the best analyses regarding Putin's indoctrination and propaganda campaign within Russia, has written a column for The Guardian. Here are some excerpts:
Beneath the veneer of Russian military "tactics", you see the stupid leer of destruction for the sake of it. The Kremlin can't create, so all that is left is to destroy. Not in some pseudo-glorious self-immolation, the people behind atrocities are petty cowards, but more like a loser smearing their faeces over life. In Russia's wars the very senselessness seems to be the sense.

After the casual mass executions at Bucha; after the bombing of maternity wards in Mariupol; after the laying to waste of whole cities in Donbas; after the children's torture chambers, the missiles aimed at freezing civilians to death in the dead of winter, we now have the apocalyptic sight of the waters of the vast Dnipro, a river that when you are on it can feel as wide as a sea, bursting through the destroyed dam at Kakhovka. The reservoir held as much water as the Great Salt Lake in Utah. Its destruction has already submerged settlements where more than 40,000 people live. It has already wiped out animal sanctuaries and nature reserves. It will decimate agriculture in the bread basket of Ukraine that feeds so much of the world, most notably in the Middle East and Africa. To Russian genocide add ecocide.

The dam has been controlled by Russia for more than a year. The Ukrainian government has been warning that Russia had plans to blast it since October.

Seismologists in Norway have confirmed that massive blasts, the type associated with explosives rather than an accidental breach, came from the reservoir the night of its destruction. Some – including the American pro-Putin media personality Tucker Carlson – argue Russia couldn't be behind the devastation, given the damage has spread to Russian-controlled territories, potentially restricting water supply to Crimea. But if "Russia wouldn't damage its own people" is your argument then it's one that doesn't hold, pardon the tactless pun, much water. One of the least accurate quotes about Russia is Winston Churchill's line about it being "a riddle wrapped in a mystery inside an enigma, but perhaps there is a key. That key is Russian national interest." This makes it sound as if Russia is driven by some theory of rational choice – when century after century the opposite appears to be the case.

Few have captured the Russian cycle of self-destruction and the destruction of others as well as the Ukrainian literary critic Tetyana Ogarkova. In her rewording of Fyodor Dostoevsky's Russian classic novel Crime and Punishment, a novel about a murderer who kills simply because he can, Ogarkova calls Russia a culture where you have "crime without punishment, and punishment without crime". The powerful murder with impunity; the victims are punished for no reason. When not bringing humanitarian aid to the front lines, Ogarkova presents a podcast together with her husband, the philosopher Volodymyr Yermolenko. It's remarkable for showing two people thinking calmly while under daily bombardment. It reminds me of German-Jewish philosophers such as Walter Benjamin, who kept writing lucidly even as they fled the Nazis. As they try to make sense of the evil bearing down on their country, Ogarkova and Yermolenko note the difference between Hitler and Stalin: while Nazis had some rules about who they punished (non-Aryans; communists) in Stalin's terror anyone could be a victim at any moment. Random violence runs through Russian history. Reacting to how Vladimir Putin's Russia is constantly changing its reasons for invading Ukraine – from "denazification" to "reclaiming historic lands" to "Nato expansion" – Ogarkova and Yermolenko decide that the very brutal nature of the invasion is its essence: the war crimes are the point. Russia claims to be a powerful "pole" in the world to balance the west – but has failed to create a successful political model others would want to join. So it has nothing left to offer except to drag everyone down to its own depths."How dare you live like this," went a resentful piece of graffiti by Russian soldiers in Bucha. "What's the point of the world when there is no place for Russia in it," complains Putin. After the dam at Kakhovka was destroyed, a General Dobruzhinsky crowed on a popular Russian talkshow: "We should blow up the Kyiv water reservoir too." "Why?" asked the host. "Just to show them." But, as Ogarkova and Yermolenko explore, Russians also send their soldiers to die senselessly in the meat grinder of the Donbas, their bodies left uncollected on the battlefield, their relatives not informed of their death so as to avoid paying them. On TV, presenters praise how "no one knows how to die like us". Meanwhile, villagers on the Russian-occupied side of the river are being abandoned by the authorities. Being "liberated" by Russia means joining its empire of humiliation.

Where does this drive to annihilation come from? In 1912 the Russian-Jewish psychoanalyst Sabina Spielrein – who was murdered by the Nazis, while her three brothers were killed in Stalin's terror -first put forward the idea that people were drawn to death as much as to life. She drew on themes from Russian literature and folklore for her theory of a death drive, but the founder of psychoanalysis, Sigmund Freud, first found her ideas too morbid. After the First World War, he came to agree with her. The desire for death was the desire to let go of responsibility, the burden of individuality, choice, freedom – and sink back into inorganic matter. To just give up. In a culture such as Russia's, where avoiding facing up to the dark past with all its complex webs of guilt and responsibility is commonplace, such oblivion can be especially seductive.

But Russia is also sending out a similar message to Ukrainians and their allies with these acts of ultra-violent biblical destruction: give in to our immensity, surrender your struggle. And for all Russia's military defeats and actual socio-economic fragility, this propaganda of the deed can still work.
More at the link!
That's enough for tonight.
Your daily Patron!
There are no new Patron tweets or videos posted today. So here's some adjacent material from the Ukrainian Army Cats & Dogs Twitter account:
#Ukrainians continue to save animals. you can't watch it without tears. pic.twitter.com/fmComAJ9wY

— UkrARMY cats & dogs (@UAarmy_animals) June 9, 2023
Ukrainian soldiers and animals that live with them. pic.twitter.com/vgNWx8KWOU

— UkrARMY cats & dogs (@UAarmy_animals) June 9, 2023
A brave Ukrainian woman saves a cat together with Ukrainian soldiers.

— UkrARMY cats & dogs (@UAarmy_animals) June 8, 2023
This is not natural flooding.

This is the result of a Russian terrorist attack. pic.twitter.com/cGDkwBo4Ar

— UkrARMY cats & dogs (@UAarmy_animals) June 8, 2023
It is not a civilian.

He is a soldier of the armed forces of #Ukraine.
126 Territorial Defense Brigade.

Soldier – you have a big heart!

— UkrARMY cats & dogs (@UAarmy_animals) June 6, 2023
I know someone here is always asking for donations for something. Here are the details for the folks that run the Ukrainian Army Cats & Dogs account for donating to help them buy and deliver food for the rescued animals.
Friends.

Now many volunteers are going to #Kherson to save animals from the consequences of the destruction of the #KakhovkaDam by #Russian troops.

We will collect your donations and buy feed for animals in Kherson shelters.

Here are the details:https://t.co/LqIsM5qgIR pic.twitter.com/q7QbbGRQFp

— UkrARMY cats & dogs (@UAarmy_animals) June 6, 2023
Hello friends.

The first part of food for animals went south to the #Kherson area. thank you for your donations. in a few days I will send another batch of fodder.https://t.co/zVitdvVelp pic.twitter.com/jMRg2NapMX

— UkrARMY cats & dogs (@UAarmy_animals) June 9, 2023
Open thread!