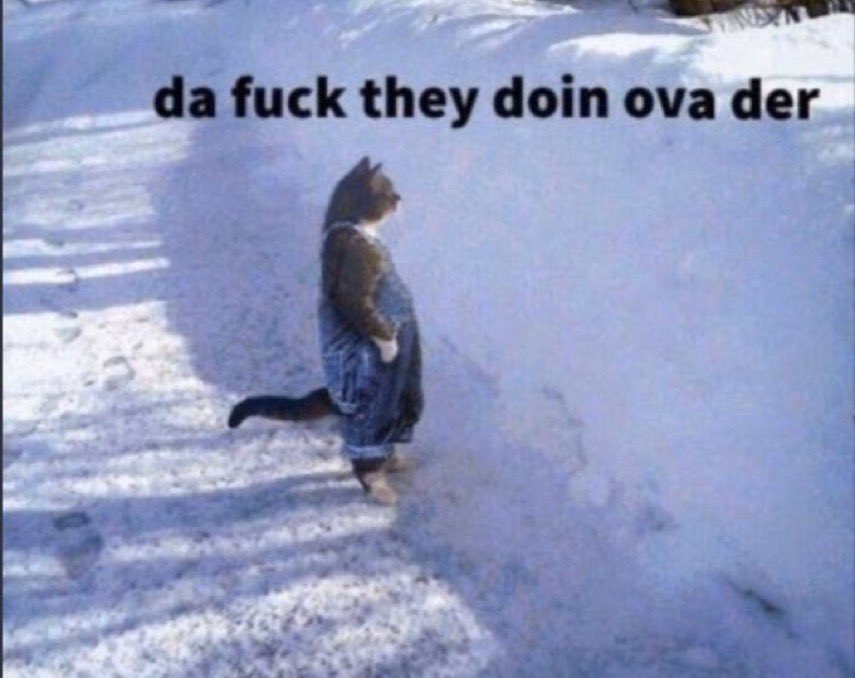 I want to make a quick point above the jump. The assessments of exactly what has gone on over the past three days and the predictions as to what will happen going forward, even from the best and most experienced subject matter experts, are only possible, plausible, and probable until they aren't. And this is going to be the case going forward as new and more accurate news and accounts of what actually went on over the past several days are reported and made public.
Here is President Zelenskyy's address from earlier today. Video below, English transcript after the jump.
The longer the Russian aggression lasts, the more degradation it causes in Russia itself – address by the President of Ukraine

25 June 2023 – 23:12

Good health to you, fellow Ukrainians!

I have just completed a series of international conversations – with President of the United States Biden, with Prime Minister of Canada Trudeau, and with President of Poland Andrzej Duda. Positive conversations that are very necessary right now for all of us.

First. Of course, we discussed the hostilities on the frontline, our active actions. I thanked our partners for the support provided – it is very significant and really helps our soldiers move forward. Now the Russian occupiers are suffering losses, which we need. Each of their losses is a long-term strengthening of freedom.

We also discussed further strengthening of Ukrainian troops, and I thank our partners for understanding our needs – long-range needs. I am especially grateful to President Biden and the United States for the reliability of Patriots. We discussed the strengthening of our artillery, MLRS and other things.

Second. The situation at the Zaporizhzhia nuclear power plant. Unfortunately, the world's attention to the existing Russian threat at the Zaporizhzhia NPP is still insufficient. Just as the reaction to the Russian blowing up of the Kakhovka hydroelectric power plant and the deliberate attempt by Russian terrorists to hit the dam of another reservoir in Kryvyi Rih was insufficient.

I shared with our partners the information we have, the information from our intelligence, about the Russian scenario of mining the Zaporizhzhia NPP, which has obviously been approved for terrorists. We must take very specific steps – all together in the world – to prevent any radiation accidents.

Third. The longer Russian aggression lasts, the more degradation it causes in Russia itself. One of the manifestations of this degradation is that Russian aggression is gradually returning to its home harbor. In our conversations with the leaders, we have exchanged our assessments of what is happening in Russia. We see the situation in the same way and know how to respond.

And one more thing. Very important meetings took place today in Copenhagen. The format of political advisors. The Office's team – Andriy Yermak, Andriy Sybiha, and Ihor Zhovkva – met with political advisors to the leaders of Türkiye, India, Japan, South Africa, and the European Union institutions. We are bringing the implementation of the Peace Formula closer, and for this purpose we involve the widest possible range of partners. Relations with the European Union remain a top priority, and every week we are laying the basis for full membership.

With just 15 days to go until the NATO Summit in Vilnius, we are doing everything to ensure that the summit has real content. Strong content. Positive decisions for Ukraine in Vilnius are the only possible positive decisions for our common security in Europe and in the Alliance as a whole.

Thank you to everyone who supports Ukraine! Thank you to Mr. President Biden, the Congress, both parties and all Americans for the historic strengthening of freedom in the world! Thank you to Mr. Prime Minister Trudeau and all Canadians for your unwavering support! Thank you to Mr. President Duda and everyone in Poland who stands with Ukraine in the defense of Europe!

Glory to our warriors! Glory to every brigade that is now moving forward at the front… Tavria direction – you are doing a great job! Thank you!

Glory to Ukraine!
Tatiana Stanovaya is a Senior Fellow at the Carnegie Russia Eurasia Foundation. Here is her take of where things are:
Below is a brief description of Prigozhin's mutiny and the factors that contributed to its outcome. We, as observers, initially missed important details due to the scarcity of information and lack of time for in-depth analysis. Here's the perspective that currently seems most…

— Tatiana Stanovaya (@Stanovaya) June 25, 2023
Here's the full text:
Below is a brief description of Prigozhin's mutiny and the factors that contributed to its outcome. We, as observers, initially missed important details due to the scarcity of information and lack of time for in-depth analysis. Here's the perspective that currently seems most plausible:

1️⃣ Prigozhin's rebellion wasn't a bid for power or an attempt to overtake the Kremlin. It arose from a sense of desperation; Prigozhin was forced out of Ukraine and found himself unable to sustain Wagner the way he did before, while the state machinery was turning against him. To top it off, Putin was ignoring him and publicly supporting his most dangerous adversaries.

2️⃣ Prigozhin's objective was to draw Putin's attention and to impose a discussion about conditions to preserve his activities – a defined role, security, and funding. These weren't demands for a governmental overthrow; they were a desperate bid to save the enterprise, hoping that Prigozhin's merits in taking Bakhmut (that's why he needed it!) would be taken into account and the concerns would catch Putin's serious attention. Now it appears that these merits helped Prigozhin to get out of this crisis alive, but without a political future in Russia (at least while Putin is in power).

3️⃣ Prigozhin was caught off-guard by Putin's reaction and found himself unprepared to assume the role of a revolutionary. He also wasn't prepared for the fact that Wagner was about to reach Moscow where his only option remained – to "take the Kremlin" – an action that would inevitably result in him and his fighters being eradicated.

4️⃣ Those in the elites who were able reached out to Prigozhin with offers to surrender. This likely added to his sense of impending doom. However, I don't believe any high-level negotiations took place. Lukashenko presented Prigozhin with a Putin-endorsed offer to retreat on the condition that Prigozhin would leave Russia and Wagner would be dissolved.

5️⃣ I don't think Prigozhin was in a position to make demands (such as the resignation of Shoigu or Gerasimov – something many observers expect today. If that happens, it will be due to another reason.) After Putin's address in the morning of June 24th, Prigozhin's primary concern was to find an off-ramp. The situation would have led to inevitable death in merely a few hours. It is possible that Putin has promised him safety on the condition that Prigozhin remains quietly in Belarus.

I stand by my previous assertion that Putin and the state have been dealt a severe blow (which will have significant repercussions for the regime). However, I want to emphasize that image has always been a secondary concern for Putin. Setting optics aside, Putin objectively resolved the Wagner and Prigozhin problem by dissolving the former and expelling the latter. The situation would have been far worse if it had culminated in a bloody mess in the outskirts of Moscow.

And no, Putin doesn't need Wagner or Prigozhin. He can manage with his own forces. He's now certainly convinced of that.
I will disclose many more details in my bulletin to be issued tomorrow evening.
The Ukrainian officer who tweets as Tatarigami disagrees:
I appreciate Tatiana's overall insightful analysis, demonstrating a strong comprehension of Russia's internal politics. However, I disagree with this particular point.
While there may be room for semantic debate regarding the definitions of "ally" and "acquaintances," it is… https://t.co/2kTM10bVCB

— Tatarigami_UA (@Tatarigami_UA) June 25, 2023
Here's the full text of his rebuttal:
I appreciate Tatiana's overall insightful analysis, demonstrating a strong comprehension of Russia's internal politics. However, I disagree with this particular point.
While there may be room for semantic debate regarding the definitions of "ally" and "acquaintances," it is important to note that Prigozhin can't be treated as some independent phenomenon in Putin's russia. Putin does not operate as the sole decision-maker, and the emergence of figures like Prigozhin necessitates a certain level of consensus among the elites rather than being solely driven by Putin's whims.

Prigozhin's involvement in international-scale PsyOps operations through notorious "troll farms," his interference in US elections, and his active engagement in supporting coups in Africa are well-documented instances that illustrate both personal gains and the spreading of Russian intelligence influence abroad. This requires level of cooperation far beyond simple "acquaintances"

Furthermore, his involvement in numerous financial and economic operations indicates a significant level of cooperation among different segments of russian elites. The acquisition of military equipment and the transfer of personnel from the Ministry of Defense to "PMC" require a coordinated effort that extends beyond a mere request from Putin.

While it is true that individuals like Dyumin, probably should be regarded as acquaintances rather than one team, it is important to acknowledge that political alliances are often formed to achieve shared goals that are mutually beneficial. While I agree with Tatiana that they may not be independent "players" in their own right, they undoubtedly play a role within the larger context of Kremlin's dynamics as a part of larger alliances.

We should not overlook rumors that Dyumin, formerly a deputy of Shoigu, was allegedly removed from Shoigu's inner circle and appointed as a governor due to concerns that he was vying for Shoigu's position. While I cannot provide specific names at this moment, it would be an oversimplification to characterize Prigozhin as a mere random phenomenon in Putin's Russia — a rogue independent actor who amassed wealth and a private army with the capability to carry out extrajudicial executions, interfere into elections and support coups abroad.

In my perspective, Prigozhin's decision to back off may be attributed to a lack of support from the individuals who were expected to provide it. Whether it was a matter of perceived expectation or agreed-upon support is a topic that deserves further exploration. Regardless, I think that characterizing this conflict as solely Prigozhin's choice to remove Shoigu by marching to Moscow due to an inability to directly communicate with Putin oversimplifies the complex dynamics of power within the Kremlin.
Here are some excerpts from Sam Greene. Greene is the Director for Democratic Resilience at the Center for European Policy Analysis (CEPA) and a Professor of Russian Politics at King's College London.
There's a phrase in Russian that the devil is not half as scary as the stories they tell about him. The same may turn out to be true of Evgeny Prigozhin, the mutinous mercenary whose short-lived insurrection failed to topple Vladimir Putin but laid bare the astounding precarity of Russia's power structure.

Quite what Prigozhin thought he would achieve – and exactly how he thought he would achieve it – remains inscrutable, perhaps even to the mercenary leader himself. Even as his troops rumbled north towards Moscow, the most likely outcome for Russia's most famous caterer seemed to oscillate between a jail cell and a pine box. Seen in that context, exile in Belarus seems cushy. But from the moment Wagner mercenaries occupied the Southern Military Command in Rostov-on-Don, this story ceased to be about Prigozhin and his aims, and became about Putin and the system of power he is trying to maintain.

However monocratic Putin may look from the outside, the reality has always been much more complex. Even now, Putin rules not fully alone and not fully on his own behalf. He relies on the compliance of an economic, bureaucratic, and security elite, and while fear and coercion play a role in procuring that compliance, a much larger role is played by positive incentives: Putin allows a small group of people to be wealthy, powerful and unaccountable to the law or public opinion. While the war and sanctions have increased Putin's power and decreased the elite's autonomy, the system still rests on the elite's sense that Putin rules in their interest.

On the face of it, the growing role of Prigozhin's Wagner private military company and the emergence of other private armies, such as Gazprom's Fakel, fit neatly into the pattern of rule that has characterized Putin's 23 years in power: since everything the state does is an opportunity for kleptocratic enrichment, and thus a powerful incentive for the elite to remain loyal, why should the war be any different?

The events of June 23-25 provide the answer to that question – and that answer may be troubling to many in Russia's rich and powerful. Everybody in the Russian system is used to cut-throat competition for money and influence, and most have memories long enough to recall the violence that often accompanied such struggles in the 1990s and into the 2000s, when "corporate raiding" was still conducted by thugs, rather than lawyers. Russia has never seen competing corporations armed with the kind of firepower that Wagner and the Ministry of Defense can bring to the field. As a result, when that kind of competition spins out of control, as it appears to have done on June 23-24, it threatens to plunge the entire country into chaos, a far cry from the localized flareups of the past.

To make matters worse, the object of the competition between Prigozhin and Defense Minister Sergei Shoigu – who are effectively sparring for control of Russia's war in Ukraine – is of such fundamental importance to the Kremlin's power that the mere fact of competition risks making it impossible for Putin to rule. When elites push and shove over who is in charge of an oil company, Putin can serve as a disinterested arbiter, picking winners and losers without too much regard for the systemic consequences. When it comes to the war, Putin has no such luxury: he cannot afford to be nonchalant about who is running the Ministry of Defense. If only for that reason, to say nothing of his constitutional authority, Prigozhin's challenge went to the very heart of Putin's power.

Prigozhin and Putin have given the Russian elite a glimpse of where the country is heading. Even if the immediate threat from Wagner has been seen off, the potential of armed insurrection is now an inescapable part of the landscape, which neither the Kremlin nor Russian elites can afford to ignore. This realization risks sparking an arms race both among competing Russian elites, and between elites and the Kremlin's domestic security forces, and like all arms races, that fact alone will multiply the likelihood of violence.

Perhaps the more troubling realization, however, is that Putin cannot afford to play the game the way he has played it before. With competition hitting the heart of Russia's power structure, Putin lacks the flexibility, maneuverability, and detachment that underpinned his rise, and that have kept the elite sated. Faced with a seemingly insoluble dilemma — admit that Prigozhin had him hemmed in, or risk turning him into a martyr — Putin froze. Belarusian dictator Aliaksandr Lukashenka will not be there to step in and mediate between disputing elites every time Putin goes AWOL. Unless the Russian leader can reassert control, elite conflict will grow increasingly chaotic and violent.

Prigozhin has brought the Russian elite face to face with the uncertainty of their future. The path they're currently on leads to more violence and incalculable risks. The obvious alternative – for Putin to try to break the autonomy of the elite altogether and rely exclusively on coercion to gain compliance – is hardly a happier prospect. Either way, business-as-usual is no longer an option.
More at the link!
Here's Meduza's reporting and analysis:
On the evening of June 24, as Wagner forces were just a few hundred kilometers outside of Moscow, Yevgeny Prigozhin announced that they would stop their advance and "retreat to their field camps according to the plan." The Wagner Group founder explained that his "march" had reached a point "where bloodshed was possible." This claim was not only vague, but also untrue — 13 Russian pilots had already been killed throughout the course of the rebellion.

The night before Prigozhin's insurrection, the Wagner founder blamed Russia's Defense Ministry for attacking his fighters, though he didn't present any evidence to back up these claims. Prigozhin singled out Russia's defense minister Sergey Shoigu specifically, calling him a "coward" and a "creature" that needed "to be stopped."

Just before Prigozhin turned his forces around, it was suddenly revealed that Alexander Lukashenko, the president of Belarus, was leading negotiations. He was apparently the one who finally convinced Prigozhin to stand down, according to Minsk's official representatives. Kremlin spokesman Dmitry Peskov also confirmed this, though Prigozhin himself has not yet commented. According to Peskov, Prigozhin "will leave for Belarus," and Russia will drop the criminal case against him. It's not yet clear what exactly awaits Prigozhin once he arrives in Belarus.

According to one of Meduza's sources close to the Kremlin, the Russian authorities began negotiations with Prigozhin on the evening of June 23, when he announced the start of his "march of justice."

The military leadership, the Kremlin's employees, and government officials attempted to negotiate with Prigozhin — though it was challenging to know exactly what should even be negotiated, given his actions.

Prigozhin's demands were vague and strange. He wanted Shoigu gone, autonomy over Wagner's affairs, and more funding. After an armed rebellion, however, there was no longer a place in the system [for Prigozhin.] In any case, he would end up worse off, even if they guaranteed that he'd be safe and [that Wagner Group] would be preserved in some capacity. He didn't want to lose anything.

Meduza previously reported that the Kremlin first hoped to resolve the situation "relatively peacefully," but was unable to reach an agreement with Prigozhin. The Kremlin then ordered Russian governors and politicians to publicly condemn Prigozhin's actions and declare him a "traitor." Around 10:00 a.m. Moscow time, Putin made a national televised address, calling Prigozhin a "traitor" and denouncing what he called a "stab in the back." This seemed to rule out the possibility of a peaceful solution.

Prigozhin responded by saying that the "president is deeply mistaken." He added that, "no one is going to turn themselves in at the request of the president, the Federal Security Service, or anyone else." At that point, Wagner fighters already controlled Rostov-on-Don and were well on their way to Moscow.

According to Meduza's sources close to the Kremlin, by mid-day on June 24, Prigozhin attempted to contact the Kremlin himself. He reportedly even "tried to call Putin, but the president didn't want to speak with him."

Meduza's sources believe that Prigozhin probably realized that "he'd gone too far" and "prospects for his column to continue to advance were dim." At that point, his fighters were already approaching the Oka River, where the Russian army and the National Guard had set up their first line of defense. Despite Prigozhin's claims that "half the army" was ready to join him, Wagner received no additional support from soldiers in the first hours of the uprising.

The Kremlin most likely realized that Prigozhin's calculations had changed, and then decided to avoid a "bloody confrontation" with Wagner. The final round of negotiations reportedly included the Kremlin's chief of staff Anton Vaino, the secretary of Russia's Security Council Nikolai Patrushev, and the Russian ambassador to Belarus Boris Gryzlov — while Lukashenko took the lead role. According to one source close to the Kremlin, Prigozhin insisted that negotiations include top officials. Given Putin's reluctance to engage with Prigozhin, negotiators were left with few options.

"Prigozhin needed a trusted third party to exit and save face. That's where Lukashenko came in. He enjoys publicity — that's why he agreed," said Meduza's source. It clearly benefits Lukashenko, who knows how to benefit from the publicity of becoming the one "saving Russia from bloodshed, or worse — a potential civil war," said the source.

Meduza's sources add that Prigozhin ultimately ended up losing out from the rebellion. "He's been expelled from Russia. The president won't forgive this," one source explained. While the exact details of Prigozhin's future still have to be worked out, he "won't have the same kind of influences and resources as he did before." There may also be changes to personnel in the Russia's defense ministry, "though this would be due to the ministry's internal issues, rather than Prigozhin's demands."

Another one of Meduza's source close to the Russian leadership doubts that there would be personnel changes in the defense ministry anytime soon, stating that "Putin almost never bends under pressure."

Meduza's sources added that the rebellion weakens Putin's position: "He was unable to get down to Prigozhin's level, but he was nowhere to be found after yesterday's national address. He's the first in command, and takes control when necessary. He shouldn't make Lukashenko the public face and allow Russia's security officials [siloviki] to lead negotiations."

One of Meduza's sources believes that Putin will now try to consolidate power, and that the number of attempts by Russia's elites to "restructure the hierarchy" will only increase.
Here's The Financial Times reporting and analysis:
Russia on Sunday after reaching a deal with Moscow to end his armed uprising after the biggest crisis of Vladimir Putin's presidency.

Prigozhin himself maintained a rare silence after calling an end to his insurrection on Saturday evening, though the Kremlin said he would travel to Belarus after the country's leader, Alexander Lukashenko, brokered the agreement to end the uprising.

Prigozhin's press office told Russian broadcaster RTVI on Sunday afternoon that the warlord "says hi to everyone and will answer questions when he has good [cell phone] reception". He had left the city of Rostov-on-Don on Saturday evening, according to video footage released by Russian state news agency RIA, which showed crowds cheering the Wagner Group leader.

Despite the deal with Prigozhin to end the crisis, the mutiny and Putin's extraordinary response on Saturday, when he likened the threat to the revolution of 1917, have raised serious doubts about the stability of his regime.

"Putin and the state have been dealt a severe blow which will have significant repercussions for the regime," said Tatiana Stanovaya, a senior fellow at the Carnegie Russia Eurasia Centre.

China's foreign ministry said Beijing "supports Russia in maintaining national stability" after a meeting of foreign minister Qin Gang with Russia's deputy foreign minister Andrei Rudenko in the Chinese capital.

Meanwhile, in Moscow, senior officials attempted to play down the gravity of the weekend's events.

Andrey Kartapolov, chair of the State Duma defence committee, distinguished the Wagner fighters who occupied Rostov from those marching on Moscow even though they were part of the same insurrection in which several Russian aircraft were shot down and their crew killed. "They didn't hurt anyone, they didn't break anything," Kartapolov said. "No one has slightest claims against them."
Much more at the link!
I'm pretty sure that the Chinese position is a lot more complex than Foreign Minister Qin Gang is making it out to be. Here's some reporting and analysis on this from The Moscow Times:
Yevgeny Prigozhin's rebellion against Moscow will have stoked alarm in China and could throw sand in the wheels of the "no-limits" strategic partnership between Presidents Vladimir Putin and Xi Jinping, experts said on Sunday.

After a 24-hour armed insurrection in which Prigozhin's Wagner mercenaries seized control of parts of the southern city of Rostov-on-Don and sent a convoy of troops hundreds of kilometers north towards Moscow, analysts said Beijing would see Putin's failure to keep the mercenary boss in check as smacking of "incompetence."

"China will look with great concern at recent events in Russia," said Rana Mitter, professor of the history and politics of modern China at the University of Oxford. "In particular, they are likely to have fresh doubts about how unified Russian forces are, as well as the overall capacity Putin has to control his regime."

Sari Arho Havren, a Royal United Services Institute (RUSI) associate fellow specializing in Chinese foreign affairs, said: "Xi likely sees the background of the Wagner mutiny as serious incompetence. The rebellion clearly dented Putin's prestige — and the main consequence is how weak Russia's power structure now appears in the eyes of others. The Chinese Communist Party has a fear of chaos and instability in its DNA."

Appearing weak and wounded in front of Beijing will be a serious blow to Moscow — and to Putin personally, who has spent years building up Russia's ties with China and increasingly relies on its political backing and growing trading links.

China has become Russia's most important international partner since it invaded Ukraine last February. Putin and Xi call each other "friends" and have cast themselves as a powerful tandem standing up to U.S. hegemony on the global stage. On the eve of the invasion, the two countries struck a "no-limits" strategic partnership.

While the Kremlin has publicly rebuffed the idea it is a subordinate in the relationship, the notion that Moscow needs Beijing more than the other way around has stuck.

That the head of a private militia was able to seize control of one of Russia's most important command centers for the war and advance to within striking distance of Moscow is likely to further tilt the power in the relationship toward Beijing, analysts said.

"This cements Russia's status as a junior partner," said Livia Paggi, the managing director and head of political risk at J.S. Held. "Russia has already become completely dependent on China, for instance on oil and gas sales. It will be even more so now — there's no doubt about it."
These takes largely coincide with my own. The PRC leadership at the time, as well as those leading the PRC now who were at the beginning of their careers at the time, were appalled by the chaos of the end of the Soviet Union and the messy Russian stalled transition to what came next. That type of political and social chaos is anathema to the political culture of the leadership of the PRC and the party they all belong to. Moreover, it is rooted in longstanding socio-cultural dynamics regarding order and orderliness that are themselves rooted in Confucianism.
This will be something to watch for:
One of the big questions now lingering is if Prigozhin resurfaces at some field camp in occupied Ukraine (this is where yesterday's convoy originated) or if it's in Belarus, which is where the Kremlin says he agreed to go.

— Kevin Rothrock (@KevinRothrock) June 25, 2023
Dmitri who, along with his teammates, spends a lot of time translating Russian and Ukrainian videos and interviews into English, has this take:
It was rather curious following the opinions of public Russian personas yesterday while the events around Wagner unfolded. Those who are naturally close to Kremlin – various military reporters with millions of followers who recently attended a meeting with Putin, they rallied…

— Dmitri (@wartranslated) June 25, 2023
Here's the full text:
It was rather curious following the opinions of public Russian personas yesterday while the events around Wagner unfolded. Those who are naturally close to Kremlin – various military reporters with millions of followers who recently attended a meeting with Putin, they rallied around the president.

But others appeared much more emotional. Many had wild mood swings, they genuinely believed something was about to happen, and in one way or another put their bets on Prigozhin. With the ending being so anticlimactic, I wonder how many are now finding themselves in a battle to recover their image.

This is the first time I've seen so many calls and prayers to God to help Russians in this situation. They were on the edge. It could have ended very, very badly. My impression is that Lukashenka literally saved Putin's life by convincing Prigozhin that going after him would lead to a disaster for both Kremlin and Minsk regimes.

I think that many will be left with an unpleasant aftertaste. The situation around the shot-down aircraft will be a heavy anchor going forward. And the lack of public statements is indicative of the struggles each side is facing.
And he provides us with a translation of Alexander Khodakovsky's assessment of the events of the past several days. Khodakovsky is the commander of the pro-Russian Vostok Battalion formed in 2014 to support the initial invasion of Ukraine.
This is a good descriptive post by Khodakovsky. The rift that occurred in Russia after the invasion failed to achieve its main goal has formalised yesterday and the tensions between the two camps will continue.

Prigozhin, who has been posting comments and audio messages… pic.twitter.com/1qWYef2yvN

— Dmitri (@wartranslated) June 25, 2023
Here's the screen grab of the translation: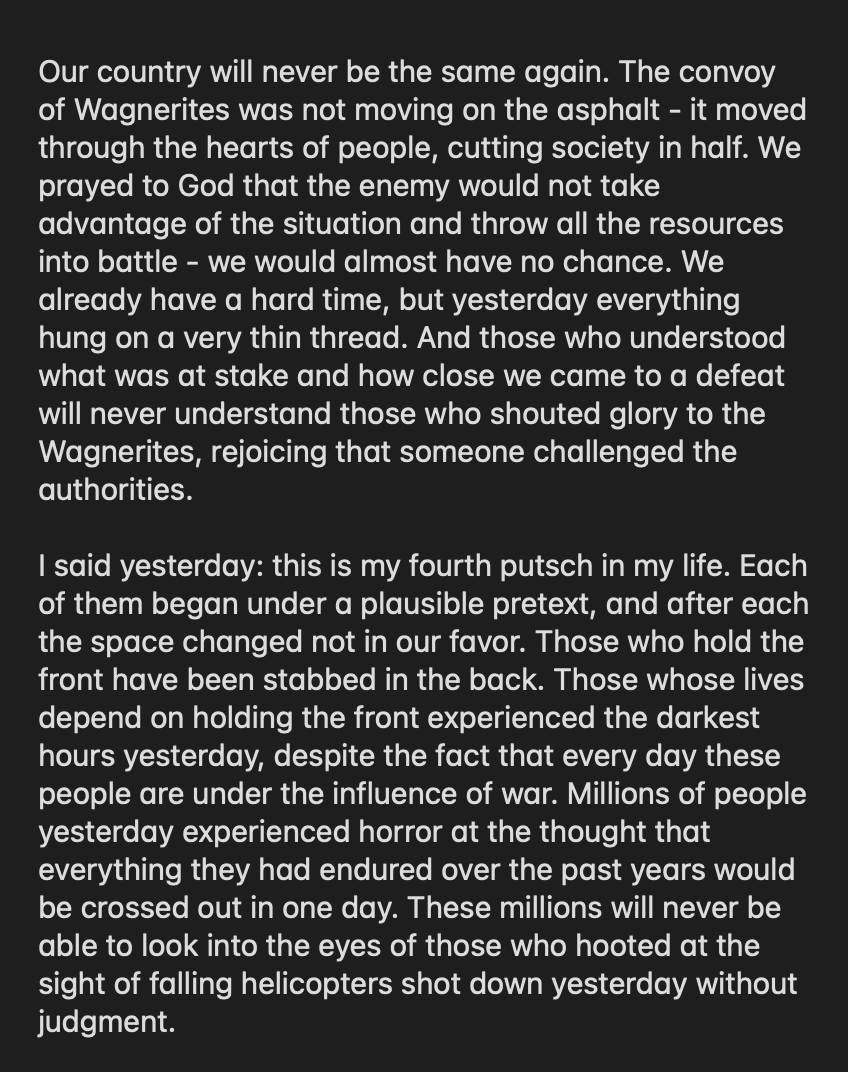 Since I'm sure someone is going to ask if I don't provide it, here's my very quick bottom line based on the reporting, analysis, commentary, etc I've been seeing. Putin has lost (some) face as a result of the events of the past several days. However, that does not mean he is gone any time soon. He has spent the better part of the past 20 plus years making himself inseparable from the Russian state. Simply, there is no actual alternative to Putin because Putin has not allowed anyone to fit that role. He either coopts them, arrests them, or has then killed. Sometimes he eventually does all of these things to them. Until or unless someone comes along who can actually present themselves as a viable alternative to Putin, until someone changes the dynamic of apres Putin la deluge, he is not going anywhere unless he becomes incapacitated and/or dies. Prigozhin was never going to be this person. Neither would Shoigu for different reasons, specifically that he's an ethnic minority from the east of Russia. I'm still convinced that Patrushev is positioning himself to eventually try to take over, but even if I'm right Putin first has to go. And since there's no heir apparent, anyone's guess is good.
That's enough for tonight.
Your daily Patron!
A new video from Patron's official TikTok!
The caption machine translates as:
Expectation/reality 😄
Open thread!