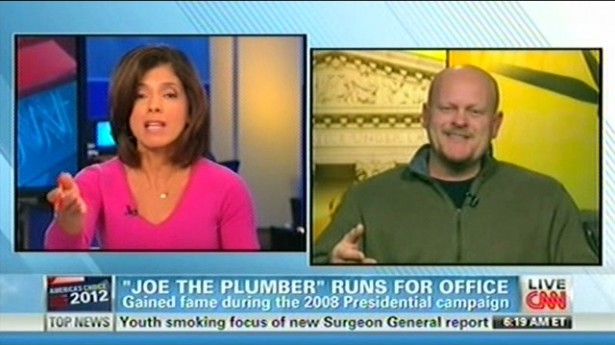 Samuel Wurzelbacher, who has been milking his 15 minutes of "Joe the Plumber" fame for four years and counting, is running against Democratic Rep. Marcy Kaptur for a Congressional seat. Apparently a tender blossom despite his rugged, wipe-clean exterior, Wurzelbacher thinks it's out of bounds to be asked about homophobic comments he made a few years ago (i.e., "I wouldn't have them anywhere near my children"):
"Listen, in my dictionary and in everyone's dictionary from the 1970s, the word queer did mean strange and unusual. There was no slur to it. Do you challenge that? Come on. You're trying to do a gotcha moment, it's quite obvious. I'm allowed to have my opinion as an American but it seems the left becomes very intolerant when you have an opinion other than what they state. My opinions are mine."
Once again, an ignorant Constitution-humper confuses "free speech" with "freedom from criticism." It will be a pleasure to watch Marcy Kaptur plunge this gargantuan turd down the drainpipe.
[H/T:
The Raw Story
; X-POSTED at
Rumproast
]